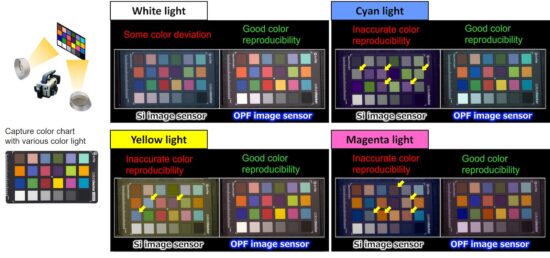 Panasonic is talking about its organic sensor again and if you judge by the title and first paragraph of the press release, it seems that they are done with the development:
Panasonic Develops Organic Photoconductive Film (OPF) CMOS Image Sensor Technology That Achieves Excellent Color Reproducibility under Any Light Source Irradiation

Panasonic Holdings Corporation announced that it has developed excellent color reproduction technology that suppresses color crosstalk by thinning the photoelectric conversion layer using the high light absorption rate of the Organic Photoconductive File (OPF) and by using electrical pixel separation technology. In this technology, the OPF part that performs photoelectric conversion and the circuit part that stores and readouts the electric charge are completely independent. This unique layered structure dramatically reduces the sensitivity of each pixel in green, red, and blue in wavelength regions outside the target range. As a result, color crosstalk is reduced, excellent spectral characteristics are obtained, and accurate color reproduction is made possible regardless of the type of light source.
The full press release can be found here. Previous coverage of the Panasonic organic sensors can be found here:
Panasonic unveiled a new 35MP organic CMOS Super35 sensor *UPDATED*
Panasonic announced the development of the world's first 8K organic sensor and 8K camera system