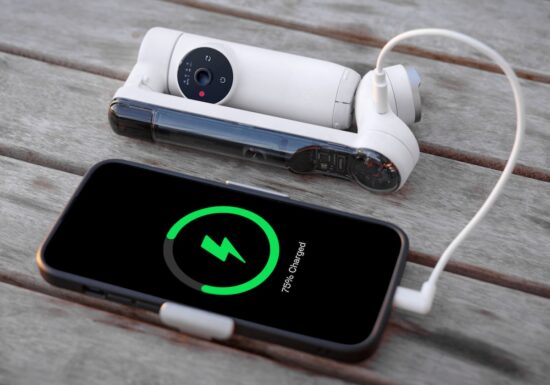 The Insta360 teaser I reported a few days ago was for a new smartphone gimbal/stabilizer with AI tracking called Insta360 Flow (additional information is available here):
From the press release:
Unrivaled stabilization and AI tracking.

With AI tracking and 3-axis gimbal stabilization, Insta360 Flow makes bringing your creative vision to life effortless.

Whether you're running after your kid or traveling to the next stop on your bucket list, Flow's mechanical stabilization guarantees shake-free shots in any scenario. It excels where a smartphone's electronic stabilization often fails, such as filming in low light and when zooming in. Flow's stabilization and convenient handheld design also means creators aren't limited to simply setting up the device in a stationary position to track themselves. Creators can take Flow wherever their inspiration strikes, and always be assured of getting perfectly stable shots.

Flow's gimbal design paired with Insta360's leading AI tracking technology Deep Track 3.0 enables Flow to follow subjects in real time, rotating to follow the movement of the subject and framing shots automatically for creators. Deep Track 3.0's unmatched precision is thanks to a number of unique technical advantages:

More accurate: Person Re-Identification to continue tracking the same person throughout a recording even if they're blocked from view and All-Angle Tracking to continue tracking as the subject's shape changes.
More versatile: Zoom Tracking, Slow Motion Tracking and even Live Mode for tracking while video calling or live streaming in another app like FaceTime, Instagram and TikTok.
More reliable: Tracking Recovery for when a subject moves out of frame. Flow will keep tracking it by zooming out or following the direction it's moving.

For a truly automated shooting experience, solo creators can even set up the tripod and use gesture control to prompt Flow to start tracking hands-free—no need to point the camera or press a button.

The all-in-one smartphone content creation tool.

Prioritizing portability and versatility, Flow is the only smartphone stabilizer that builds all of a creator's essential shooting tools into one device for on the go shooting:

Selfie stick: An extension rod extends to 215mm for better selfies and cinematic low angle shots.
Tripod: Extends from the handle, allowing creators to set up Flow to film themselves or capture a creative effect like motion timelapse or 360 photo.
Power bank: Flow's best-in-class 2900mAh battery can even charge a smartphone while recording.
Built-in cold shoe: Add a mic for leveled-up audio without any additional accessories.

Flow unfolds in just one motion thanks to 1-step rapid deploy. Simply attach your phone via the magnetic phone clamp, unfold the gimbal, and you're ready to start shooting. With iPhones, the Insta360 app will detect Flow when attached and send a notification to open the Insta360 app to connect.

Quick, easy, smooth filming.

For creators who want to take the wheel with full creative control, Flow offers that too. The SmartWheel boasts a minimalist design that gives creators quick, easy access to a host of useful functions, from shooting controls, to video replay, and more. A swipe of the wheel toggles between four main modes: Auto, Follow, Pan Follow and FPV.

Unique to Flow is Auto mode, which automatically adjusts gimbal settings based on the user's movements for guaranteed shake-free shots, perfect for beginners. For more adventurous creators, FPV mode can be used to spin your smartphone and simulate FPV drone-like movements, such as a barrel roll.

Unlock creative inspiration and effects.

Flow also helps creators with AI-powered shooting and editing tools in the Insta360 app.

Not sure how to compose a shot? Give a voice command and Shot Genie will recommend shooting techniques according to the scene. Over 80 templates are available to follow, from filming the beach to a bustling city scene.

Hoop Mode is a first-of-its-kind mode for basketball fans. Set Flow to record a game and the AI will track the basketball and hoop to recognize when a basket is made, saving the highlights as individual clips for easy editing into a reel later.

More shooting modes are also a tap away, including:

Panorama: Simply extend the tripod and Flow will snap an immersive panorama in 360°, 240°, 180° or 3×3 grid format. Flow is the first smartphone stabilizer capable of shooting 360 photos.
TimeShift: Film a hyperlapse with stabilized, sped-up footage over a period of time, great for hiking or traveling.
Motion Timelapse: Set Flow down to film between two points over a period of time for a dynamic timelapse.
Dolly Zoom: Recreate this classic Hollywood effect with the tap of a button, great for zooming in and out on a subject.

Flow's 12-hour battery life means it can last all day without ever needing a charge. When the day's over, creators can use FlashCut to edit together their video clips on-beat to music, with seamless transitions and effects.