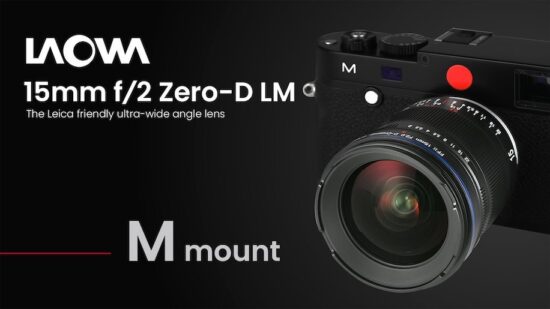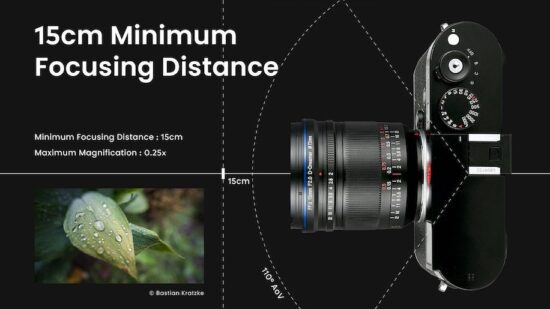 The previously rumored Laowa 15mm f/2 Zero-D LM lens for Leica M-mount by Venus Optics is now officially announced with 110° ultra-wide angle of view. The new lens is currently in stock at the office Laowa website (international shipping available). The lens has already been available for other mirrorless mounts.
| | |
| --- | --- |
| Focal Length | 15mm |
| Angle of View | 110° |
| Aperture Range | f/2-22 |
| Format | Full frame |
| Lens Structure | 12 elements in 9 groups (2pcs of Aspherical Elements + 3pcs of Extra-low Dispersion Elements) |
| Blades | 5 |
| Min. Focusing | 14.5cm/ 5.7" |
| Magnification | 1:4 |
| Filter Thread | Ø72mm |
| Dimensions | About Ø63 x 71mm (2 ³¹/₆₄ x 2 ⁵¹/₆₄ inches) |
| Weight | About 418g |
| Mounts | Leica M |
| Price | USD 649 |
Additional information:
Anhui China, 30 March 2023 – Venus Optics is thrilled to introduce the Laowa 15mm f/2 Zero-D LM. Getting the breathtaking 110° ultra-wide angle and f/2 large aperture lens option for the Leica M mount users. The lens is designed with outstanding flaring control and the Laowa-specialised close-to-zero distortion feature. Making it the perfect lens for Leica photographers to capture landscape, architecture, interior, street, and astrophotography. The new 15mm also supports rangefinder coupling. Giving both digital and film users a new ultra-wide experience.
Featuring a 15mm focal length (110° angle of view) for full-frame Leica cameras, this lens allows photographers to capture eye-opening ultra-wide shots. The lens is super compact for an f/2 lens and ideal companion for travelers to capture city skyline and spacious landscape photography.
Large aperture of f/2
With an f/2 large aperture, the lens captivated users with the ability to capture breathtaking low-light photography or shallow depth-of-field photos. Extremely useful for stunning night and astrophotography.
Close-to-Zero Distortion
The lens is comprised of 12 elements in 9 groups with 2 aspherical elements, controlling distortion to the minimum for photographers to do satisfying architecture and landscape shootings. Photographers can save time from post-editing without the need for fixing the straight lines.
15cm desirable minimum focusing distance
The 15cm closest focusing distance allows photographers to get rather close to the subject and create clear and dazzling images. Having the close-up object with an f/2 large aperture can help it stands out from the background with a shallow depth-of-field and pretty bokeh effect easily.
72mm filter thread with lens hood
This lens comes with a lens hood that is equipped with a 72mm filter thread. this brings convenience and places less burden on outdoor shooting. Any ND/CPL/Night filters can be directly screwed on the lens for photographers to shoot in extreme situations. Ideal images can be captured with certain effects effortlessly.
Compatible with M-E or M-Z autofocus adaptor
This lens is compatible with an M-E or M-Z autofocus adaptor, able to turn this lens into an auto-focus one for Sony and Nikon users by having the extendable bayonet and push the lens back and forth to achieve focus.
Lecia-friendly mechanisms – support rangefinder coupling with Focus Limit Reminder
The lens supports rangefinder coupling on Leica M cameras, providing an accurate and easy focus to Leica users. Also, there's a Focus Limit Reminder to remind users about the usable range for the lens that can be focused with a rangefinder by a "click" at 0.7m.
6-bit coding
The 15mm f/2 zero-D built with the "6-bit coding" option for one to do the code marking on their own. The lens can then be recognized by the M cameras and recorded in the EXIF.
Laowa 15mm f/2 Zero-D LM are currently available to purchase via Venus Optics official website and authorized dealers. The US price for the 15mm f/2 Zero-D LM is $649. Pricing varies in different countries.
The Venus Optics Laowa 15mm f/2 Zero-D lens is coming also for Leica M-mount
Venus Optics unveil the world's fastest Laowa 15mm f/2 lens (Sony E-mount) and the world's widest 7.5mm f/2 lens (MFT)