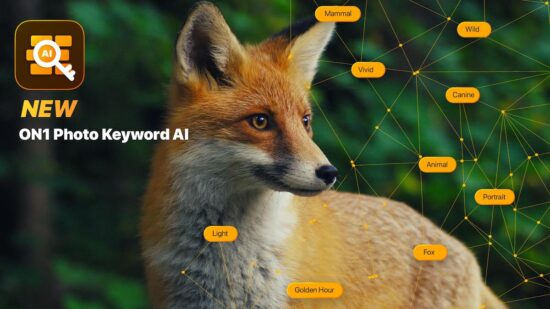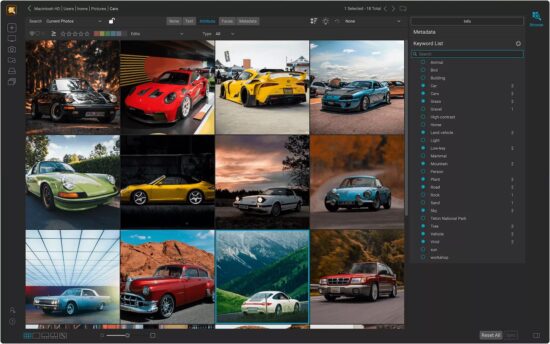 ON1 introduced a new ON1 Photo Keyword AI 2023 product that makes all of your photos discoverable and easier to manage:
"This simple-to-use application allows users to make their photos discoverable by intelligently finding and organizing them using the power of AI. Anyone can now search and view their photos with Photo Keyword AI based on photo content without having to do the work you would find in most other photo organizing software. This cutting-edge technology employs advanced machine learning algorithms to analyze your images and automatically assign appropriate keywords."
ON1 introduces ON1 Photo Keyword AI 2023: Make All of Your Photos Discoverable and Easier to Manage
June 14th, 2023 – Salem, Oregon – As a leading provider of innovative photo editing software apps, we are thrilled to announce ON1 Photo Keyword AI 2023, a new simple-to-use application that makes your photos discoverable by intelligently finding and organizing them using the power of AI (coming next week). Anyone can now search and view their photos with Photo Keyword AI based on photo content without doing the work you would find in most other photo-organizing software.
Many photographers today are faced with manually adding keywords, finding specific photos shot in different years or locations, identifying duplicates, and more. Our new application leverages machine learning and powerful browsing capabilities to address these time-consuming tasks, making rediscovering or searching your photos effortless.
"We all know how tagging, organizing, and even managing photos, in general, can be a pain. Well, with Photo Keyword AI, we can all say goodbye to the time-consuming tasks of manually tagging photos and instead focus on more fun parts like rediscovering their favorite images just by doing simple searches," said Dan Harlacher, VP of Product at ON1. "Our software combines the power of machine learning with a full-featured browser, delivering an intuitive solution that really improves the way photographers can search their photo libraries."
To start, ON1 Photo Keyword AI's automatic keyword generation feature will allow users to bid farewell to the tedious task of manually tagging photos. The advanced machine learning algorithms scan each image, recognizing over 800 objects and photo elements. Additionally, related keywords are added automatically, ensuring more accurate search results. This is accomplished locally, using on-device intelligence, without uploading your photos to the cloud.
The software's capabilities go far beyond keyword tagging, though. ON1 Photo Keyword AI can also detect faces, estimate age and gender, determine location using GPS metadata, and classify photos based on photographic traits such as key, contrast, vividness, focal length, and predominant color. These features enable photographers to quickly find the images they need in their extensive photo collections.
One of the highlights of ON1 Photo Keyword AI is its lightning-fast browser, empowering users to view, organize, and cull their photos seamlessly. The complete metadata support, including nested keywords, descriptions, EXIF, IPTC, and XMP support, ensures all relevant information is captured and accessible in the app. Importing photos from memory cards, cameras, or phones is a breeze with the built-in import dialog, allowing users to select the desired images, designate their destination, rename files, and add metadata simultaneously. ON1 Photo Keyword AI is built on a robust database offering unparalleled speed and performance. It lets users view photos faster, search entire collections, and create albums of their favorite work.
ON1 Photo Keyword AI supports many file formats, including raw photos from over 800 cameras and PSD, TIF, JPG, PNG, HEVC, and most video files. The software's versatile search functionality allows users to type a word or phrase to search any metadata field. Users can also search by star and color rating, number of faces, age and gender, file type, camera settings, size, and more. The advanced search capabilities will enable users to have simultaneous searches across multiple fields, with the ability to save searches for future use.
Finding duplicates and similar photos is effortless with ON1 Photo Keyword AI, freeing up valuable storage space. The software's batch-processing feature empowers users to export copies of their photos in different formats, customize file naming conventions, control metadata, and even add watermarks. For photographers seeking to showcase their work, ON1 Photo Keyword AI provides a fully color-managed workflow for printing photos, including the ability to preview them with soft proofing, print packages, and contact sheets.
ON1 Photo Keyword AI differentiates itself from its competitors through its unique features. Unlike integrated platforms such as Apple Photos, Google Photos, and Adobe Lightroom Cloud, ON1 offers a browse-first approach that allows photographers to organize their photos however they prefer, without extensive cataloging or uploading to the cloud. The built-in import dialog simplifies downloading photos from various devices. At the same time, the automatic XMP embedding ensures all automatic keywords and metadata are viewable and searchable in other applications like Adobe Lightroom Classic or Capture One.