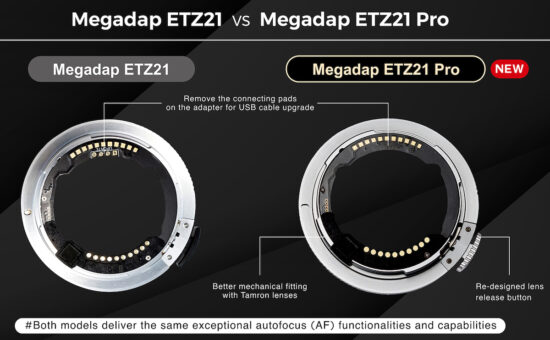 The previously rumored Megadap ETZ21 Sony E to Nikon Z AF lens adapter is now officially announced and available for pre-order at Adorama, B&H Photo, and eBay. Additional information:
Nikon Z9, Z30 and Zfc compatible.
Turn SONY E lenses Autofocus on Nikon Z cameras (Full-frame and APS-C)
The only adapter in the market that also supports Nikon Z APS-C cameras
Support E mount third-party lenses, e.g. Sigma, Tamron, Zeiss, Voigtlander, Samyang
Viltrox and Yougnuo lenses are currently not supported
2mm thin
Support AF-S, AF-C, AF-F, Eye-AF, pinpoint focusing and Face detection
Smooth focusing performance during video shooting
Support auto aperture
Support the use of manual lenses
Support AF/MF button on the lens body
Firmware upgradable through Nikon Z camera (with adapter + lens installed)​
Suitable for Nikon ZFC, Z30, Z50, Nikon Z5, Nikon Z6, Nikon Z6 ii, Nikon Z7, Nikon Z7 ii, Z9 cameras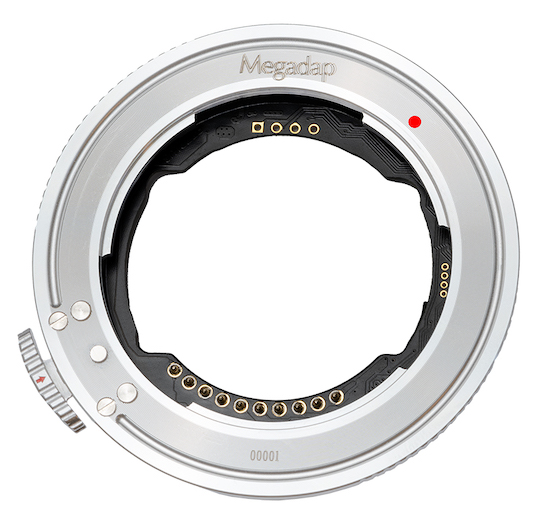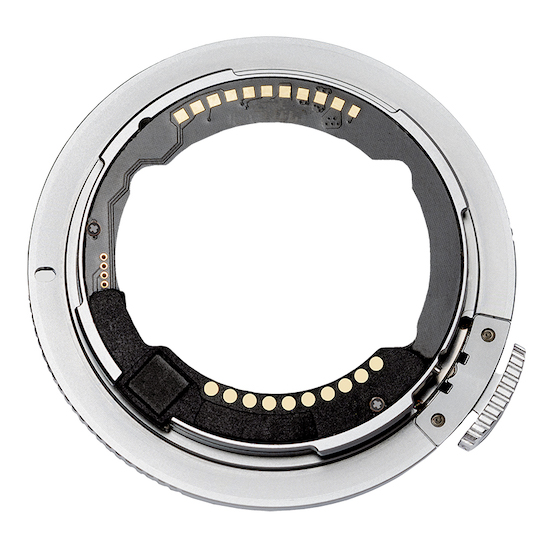 Megadap has developed an upgraded firmware, available for both the ETZ21 and ETZ21 Pro
models. This firmware introduces a range of valuable features and enhancements designed to
elevate the overall performance of the adapters. Key highlights of the firmware upgrade
include:
Nikon Z cameras will recognize the the ETZ as a Na<ve Lens
Previous Megadap firmware and similar compe<tor products are seen by Nikon
cameras as an adapter ring, limi<ng some func<onality. This recogni<on
ensures a seamless integra<on experience, allowing photographers to fully
u<lize the capabili<es of their Nikon Z cameras.
Support for Customizable Bu\ons
U<lize the customizable bu\ons on Sony lenses, offering enhanced control and
flexibility in their shoo<ng experience.
Lens Brand and Model Informa<on in EXIF
EXIF data now includes detailed lens brand and model informa<on, facilita<ng
efficient organiza<on and post-processing. Please note that certain lenses may
not display the brand name in EXIF data.
Enhanced Compa<bility
The upgraded firmware ensures compa<bility with the latest Nikon Z8 and Z9
cameras.
In-Camera Lens Manual Correc<on
The firmware supports in-camera lens manual correc<on, enabling
photographers to op<mize image quality by fine-tuning lens parameters.
Improved Focus Performance
Enhanced focus performance in challenging environments, such as low-light
condi<ons and when focusing on solid color objects, ensuring precise and
accurate results.
Enhanced High-Speed Con<nuous Shoo<ng
Improved stabiliza<on in high-speed con<nuous shoo<ng performance,
delivering consistent speed and exposure accuracy, allowing photographers to
capture every cri<cal moment flawlessly.