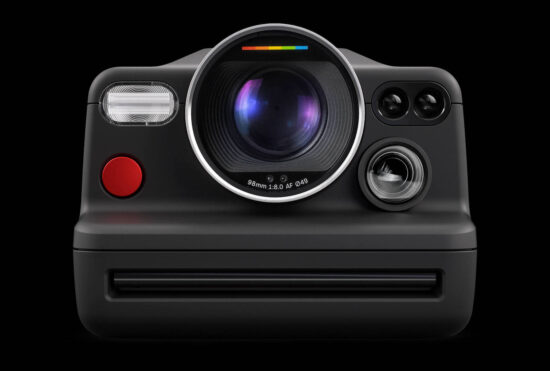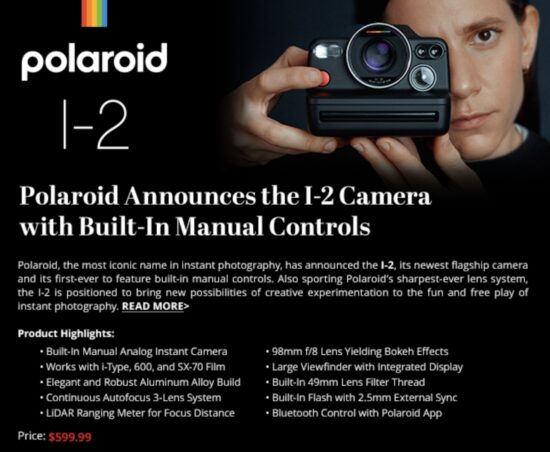 Polaroid announced a new I-2 instant camera with built-in manual controls, LiDAR autofocus, and Bluetooth connectivity (replacement for the original i-Type). The price is $600 and pre-orders are already open at B&H Photo and Moment.
Lens: 3-element lens with continuous autofocus system. Capable of ƒ/8 aperture across 

0.4m

 (1.3′) – ∞ range controlled via a stepper motor. Material: optical grade polycarbonate and acrylic with anti-reflective coating.
LiDAR: high-accuracy ranging system
Built-in manual controls: camera modes, flash mode, distance to the object, shutter speed, aperture, and light meter indicator value are selectable on the camera and communicated through an integrated viewfinder display and external OLED display.
Camera modes: auto, aperture priority, shutter priority, manual, self-timer, multi-exposure
Flash: vacuum discharge tube strobe, 

2.5m

 (8′) range. Accurate, human-friendly flash system
Design: modern design that echoes past iconic Polaroid machines. The technical requirements and the lens dictate the camera's shape. The exterior is made of high-quality ABS and PMMA plastic that is more impact-resistant and finished with a special coating giving it a premium look and feel.
UX design: working with I-2 is engaging, I-2 technical performance is on the surface – complexity is highly accessible
Premium materials: ABS, PC, PMMA, Aluminum Alloy
Internal rechargeable lithium-ion battery, rechargeable via USB-C – 15-pack battery life
Compatible with Polaroid i-Type, 600, and SX-70 film
App-enabled: download iOS or Android Polaroid App to enable full remote control and firmware updates via OTA Bluetooth
Tripod mount: standard 1/4-20 

UNC

 thread
Built-in lens filter thread mount: Compatible with 49mm filters
Compatible with external flashes: 2.5mm audio mono-jack flash sync interface

Technical specifications:
Compatible with: Polaroid i-Type FilmPolaroid 600 FilmPolaroid SX-70 Film
Mount: Tripod mount Built-in lens filter thread mount
Battery: Rechargable 15 pack battery life Lithium-Ion Polymer Soft-Pack Battery
Modes: AutoShutter PriorityAperture PriorityManualMulti-ExposureSelf Timer
Shutter System: Fastest shutter speeds 1/250Exposure time range is 1/250-30sBulb mode (up to 99 hours)
Aperture: Maximum ƒ8 practical apertureAvailable apertures:ƒ8, ƒ11, ƒ16, ƒ22, ƒ32, ƒ45, ƒ64
Lens: 3-element lens with continuous autofocus system Capable of ƒ8 across 0.4m (1.3") ~ ∞ range controlled via stepping motor
Focal Length: 98 mm
Field of View: Field of View Center weighted single zone metering60% metering coverage of optical FOV
Flash System: Vacuum discharge tube strobe range2.5m @ ƒ8 (8.2") @ ƒ8
Display: Outer display and VF display for aperture, shutter speed, modes, film count, battery level, function display etc.Outer:
Mono LCM, yellow display with black background
Device Interface Ports: Type C charging input x12.5mm external flash sync. port x1
Camera Weight: 1260 grams44.4 ounces
Dimensions & Weight 149.9 x 119.3 x 91.2 mm5.9" x 4.7" x 3.6"
Outer Shell: ABSTPUPP and polyesterPCPMMAAluminium AlloyStainless Steel
Additional information:
At the heart of the I-2 is the continuous autofocus three-lens system capable of making the sharpest shots of any Polaroid instant camera for integral film, while a wide aperture delivers a gorgeous depth of field. The lens has been designed in partnership with Japanese optical engineers with decades of experience developing marquee analog products.
The autofocus takes full advantage of the lens with a LiDAR (Light Detection and Ranging) sensor, which precisely detects the distance to the subject and auto-adjusts the lens, ensuring accurate focus. LiDAR enables longer focusing distance and is reliable even in difficult scenes with high or low light conditions.
The I-2 is the first Polaroid camera for integral film with built-in manual controls allowing more creative freedom. A large, bright viewfinder offers a traditional optical experience and communicates camera settings via an integrated display. Shutter speed, aperture size and six different shooting modes are directly selectable on the camera.
Further extending creative choices for photographers, the Polaroid I-2 is the first instant camera compatible with i-Type, 600 and SX-70 film and has a built-in lens thread mount compatible with 49mm filters.
The design of the I-2 is a celebration of its functionality. The exterior is built around the lens and the camera's manual controls. It is made with high-quality materials and has a modern look while remaining uniquely and unmistakably Polaroid.
Made for the digital age, Polaroid I-2 features Bluetooth connectivity, and the accompanying app allows firmware upgrades over the air as well as complete remote control of the camera.