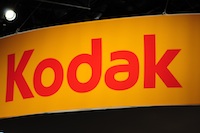 Yes, you read this right – the rumor is Kodak's "entirely new type of camera" could be a 3D DSLR camera. Kodak used to make DSLR cameras before and it seems that they have found a niche market and decided to explore it. Just few days ago Kodak reported 26% drop in sales (source: WSJ) and I can imagine how the company can become more aggressive and try to introduce something new.
I cannot mention the source of this rumor, but I consider it serious enough to publish it here.
At CES (January 2010 in Las Vegas) Kodak is also expected to announce a new version of the Kodak Zi8 pocket camcorder.