Update #2: the video was of course removed from YouTube.
Update: The first camera on the video is the NX10 with the new compact zoom kit 20-50mm. There are some more new Samsung lenses in that picture:
The two lenses to the right of the NX10 are: in the back the 20-50mm f/3.5-5.6 compact kit zoom and in the front is it the new 20mm pancake (see the full 2010 Samsung NX lens line-up)
The white camera has the new compact zoom kit.
The new cameras has the same design as the Samsung HZ30W.
We already know that the Samsung NX100 will come in white. Here is the proof: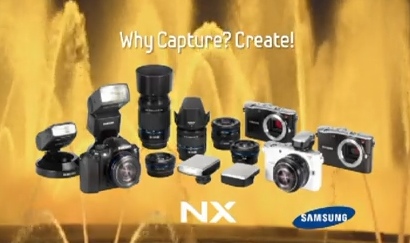 Do you see the three cameras on the right? They don't look like anything else in the current Samsung line-up and one of them is white. Maybe this is the expected Samsung NX100. The pictured cameras could also be the Samsung NX5.