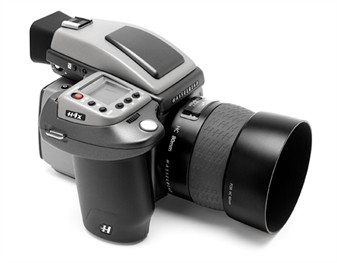 The Hasselblad H4X that leaked few days ago is now officially announced. Current H1/H2/H2F owners can upgrade to the new model (prices starting from 3,995 Euros).
27/10/2011 After almost a decade of service in the front line many H1 and H2/H2F bodies are growing tired and are now in need of replacement. Customers still using the aging platform can now trade-up to the new H4X.
Said Chris Russell-Fish, Global Sales and Marketing Director: "The H1/H2 series has had a long and distinguished career but the time has come to announce its evolution. We know there are still a substantial number of photographers out there using H1/H2 bodies – and we are offering them an exclusive opportunity now to trade-in and upgrade to a very worthy successor – the H4X."
The new model is available only to H1/H2/H2F users and will cost from just 3,995 Euro (plus tax). The H4X is a great camera body upgrade, which supports all H System lenses, most third party backs and even film. And of course it comes with our world-acclaimed True Focus technology and all the built-in 'DNA pedigree' our customers have come to expect from Hasselblad.
Former US President J. Carter once said 'We must adjust to changing times and still hold to unchanging principles'. We agree. Our new H4X completely underpins this sound logic.
For further information and for H1/H2/H2F owners who wish to trade-up to the new H4X, please go to:
www.hasselblad.com/H4X and contact your Hasselblad dealer.