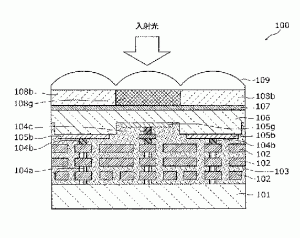 Similar to Fujifilm, Panasonic also filed a patent 2011-258729 in Japan for an organic sensor that can change the thickness of the organic film by changing the wavelength. Here is a machine generated translation of the patent description taken from the Japanese Patent Office:
It has two or more light filters corresponding to said two or more pixels formed on said upper electrode layer, Said two or more light filters, The 1st light filter that mainly penetrates light of the 1st wavelength, The 2nd light filter that penetrates light of the 2nd wavelength mainly shorter than said 1st wavelength is included, Thickness of said photoelectric conversion film located under said 2nd light filter is thicker than thickness of said photoelectric conversion film located under said 1st light filter.

The pixel cell in which the image sensor used for the digital still camera etc. contains a photo-diode on a semiconductor substrate is arranged, and the CCD sensor and CMOS sensor which read the electric charge produced by entering light at a photo-diode as a signal charge are known well. As for these solid state cameras, wiring of the photo-diode and the drive circuit, etc. are formed on the semiconductor substrate. Wiring of the pixel cell part serves as a layout which carried out the opening of the photo-diode top for light-receiving.