I am not sure if this is a mistake, but Adobe Lightroom 4 is now available for pre-order on Amazon for $149.99. The release date is listed as March 6th, 2012:

Product features:
Adobe Photoshop Lightroom 3 software helps you bring out the best in your photography.
Bring out the best in your photography, whether you're perfecting one image, searching for ten, processing hundreds, or organizing thousands.
Breeze through your digital photography tasks quickly and efficiently.
So, you can spend more time shooting–your core photography essentials are included in one fast, intuitive application.
Share your vision with elegant options for showcasing your images in customized print packages.
Dynamic slide show videos with music, web galleries, and on popular photo-sharing sites.
Experiment fearlessly with state-of-the-art nondestructive editing tools, including world-class noise reduction.
Get the absolute best from every image you shoot with world-class editing power and intuitive controls that set your creativity free.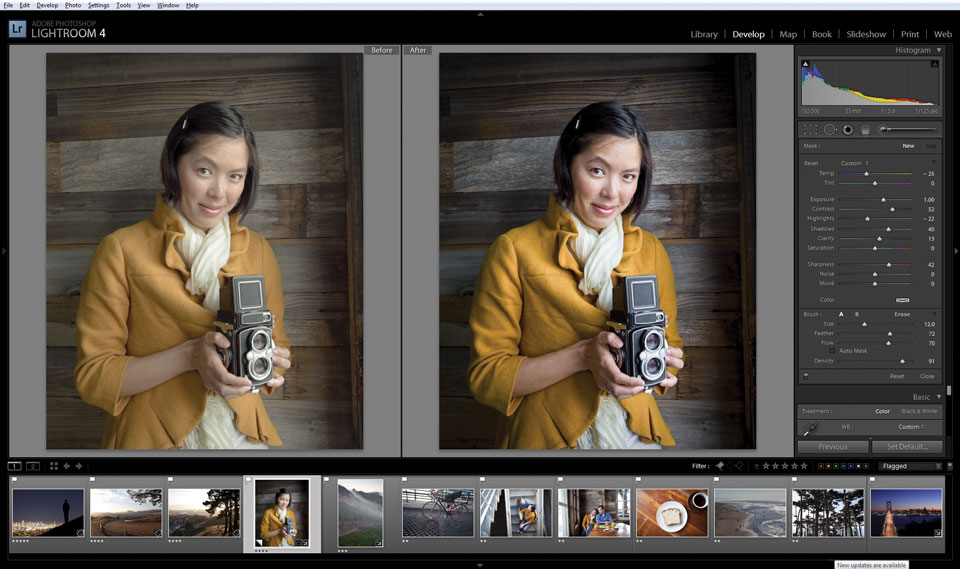 Here is the description from the manufacturer:
Adobe Photoshop Lightroom 4 Overview
The Lightroom 4 software helps you create amazing images that inspire, inform, and delight. Bring out the best in every shot with powerfully simple one-click adjustments and a full range of cutting-edge advanced controls. Craft elegant photo books and effortlessly share your best shots on social networks, in web galleries, and more. Perfect your images, organize all your photographs, and share your vision—all with one fast, intuitive application.
New for Lightroom 4
Highlight and Shadow Recovery – Bring out all the detail that your camera captures in dark shadows and bright highlights. Now you have more power than ever before to make great images in challenging lighting conditions.
Photo Book Creation – Create beautiful photo books from your images with a variety of easy-to-use templates included in Lightroom, and then upload your book for printing with just a few clicks.
Superior Image Processing – Get the absolute best from your images with state-of-the-art image processing controls. Make precise overall adjustments or correct targeted areas.
Extended Video Support – Organize, view, and make adjustments and edits to video clips. Play and trim clips, extract still images from them, or adjust clips with the Quick Develop tool.
Advanced Black-and-White Conversion – Gain powerful control over the tonal qualities that make or break black-and-white images. Precisely mix information from eight color channels when you convert to grayscale.
Superior Noise Reduction – Achieve amazing, natural-looking results from your high ISO images with state-of-the-art noise reduction technology. Apply noise reduction to the entire image or target specific areas.
One-Click Adjustments to Multiple Images – Save time when processing many images. Apply the same develop settings, exposure, or contrast, for example—to all the photographs in a group at once using presets or syncing.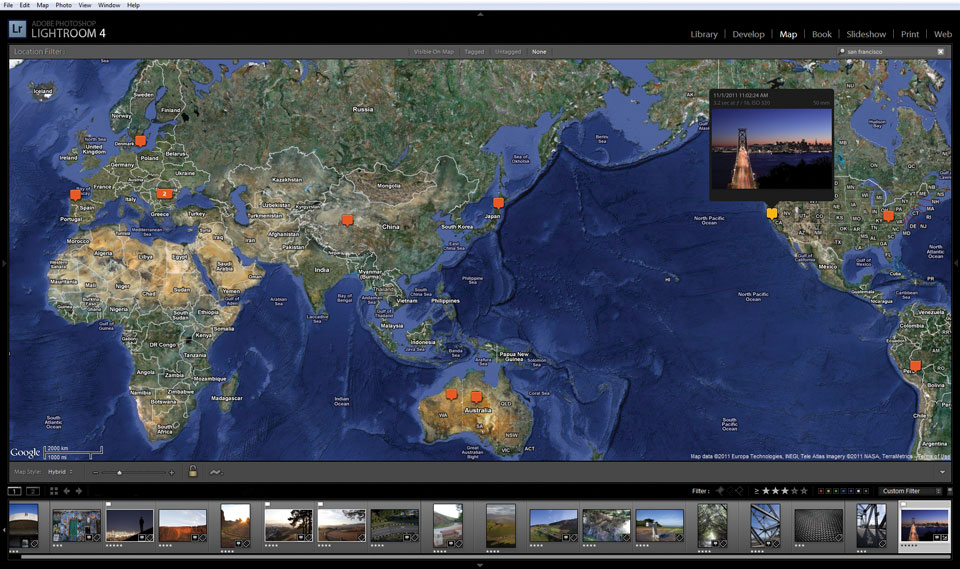 Frequently Asked Questions
Q: How does Adobe Photoshop Lightroom differ from Adobe Photoshop? – Adobe Photoshop Lightroom software provides all the tools you need for digital photography in one intuitive solution. Lightroom helps photographers work fast and efficiently, while maintaining the highest quality. Adobe Photoshop software is the industry standard in digital image editing, with advanced tools for detailed, pixel-level editing and working with multilayered files.
Q: Why should I use Lightroom if I already have Photoshop? – Lightroom is designed to boost your efficiency by handling all the tasks a digital photographer faces in one intuitive environment. It includes powerfully simple one-click adjustments, as well as the widest range of advanced tools for efficiently processing sets of images, organizing photo libraries, and sharing images.
| Adobe Photoshop Lightroom Comparison Chart | Lightroom 2 | Lightroom 3 | Lightroom 4 |
| --- | --- | --- | --- |
| Location-based photo organization | | | X |
| Extended video support | | | X |
| Importing libraries from other software | | | X |
| Highlight and shadow recovery | | | X |
| White balance brush | | | X |
| Additional adjustment brush options | | | X |
| Basic support for video files | | X | X |
| Improved watermarking | | X | X |
| Cross-platform 64-bit support | | X | X |
| Multiple monitor support | X | X | X |
| Simplified tone curve tools | X | X | X |
| Red-eye removal | X | X | X |