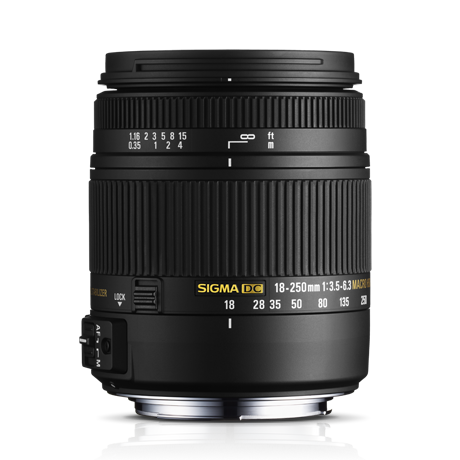 The previously rumored Sigma 18-250mm f/3.5-6.3 DC Macro OS HSM lens is now official. Adorama has the price listed as $499. The Canon version is expected later this month, Nikon mount will be released in July, Sony and Pentax versions will be out later this year. The current 18-250mm model will be available for sale through the summer.
Sigma also announced a price drop on their 70-300 APO Macro lens (currently $199).
Lens Construction
13 Elements in 16 Groups
Angle of View
13.7 degrees
Number of Diaphragm Blades
7
Mininum Aperture
ff22
Working Distance
35cm / 13.8in
Filter Size (mm)
62mm
Maximum Magnifications
1:2.9
Dimensions
(Diameter x Length)
73.5mmx88.6 mm/2.9inx3.5 in
Weight
/ 16.6oz.
Press release:
Sigma Corporation of America announces new 18-250mm F3.5-6.3 DC Macro OS HSM lens

New Thermally Stable Composite material offers wide range of photography in compact, stabilized, macro lens

Ronkonkoma, NY, June 15, 2012 – Sigma Corporation of America, a leading researcher, developer, manufacturer and service provider of some of the world's most impressive lines oflenses, cameras and flashes, is pleased to announce the availability of its new Sigma 18-250mm F3.5-6.3 DC Macro OS HSM lens starting in July 2012. Pricing is still pending.

The addition of the 18-250mm F3.5-6.3 DC Macro OS HSM speaks to Sigma's versatile product lineup with this multipurpose zoom lens that offers Optical Stabilization (OS)* and covers wide angle to telephoto to macro photography. It differs from Sigma's current 18-250mm F3.5-6.3 DC OS HSM lens with its even more compact size, its macro capability with a maximum magnification ratio of 1:2.9 and the use of Thermally Stable Composite (TSC) material currently used only by Sigma.

TSC, which is incorporated into the lens barrel and is often compared to polycarbonate, has a high degree of elasticity and exhibits little variation in its structure in extreme temperature conditions. This means that internal barrel expansion and contraction due to extreme temperature variations is less prevalent. TSC also contributes to the lens' size reduction. The non-macro 18-250mm F3.5-6.3 without TSC weighs 22.2 ounces and is 3.1 by 4 inches in diameter, whereas the new macro lens is 16.6 ounces and 2.9 by 3.5 inches in diameter.

"We're constantly trying to improve and expand our lens lineup, and this addition is no exception," said Mark Amir-Hamzeh, president of Sigma Corporation of America. "By redesigning the lens and adding TSC, we are able to offer this very compact, feature-rich lens that is flexible enough to tackle a range of photography, including landscape, sport and macro. This is key for the everyday photographer who wants to travel light but pack the punch of a complete camera bag."

Sigma optimized this lens' power arrangement by incorporating double-sided aspherical lenses and reexamining the design to achieve a more compact filter diameter. The lens has an approximate 13x high zoom ratio with a filter size of 2.8 inches in diameter. Sigma's unique OS system, as well as one Special Low Dispersion (SLD) glass and three aspherical lens glasses, compensate for camera shake and enable correction of color aberration, respectively.

The new 18-250mm F3.5-6.3 DC Macro OS HSM lens is also equipped with Super Multi-Layer Coating to reduce flare and ghosting, a Hyper Sonic Motor (HSM) to ensure fast and quiet auto-focusing, and a rounded, seven-blade diaphragm to create an attractive round blur to the out of focus areas. The lens features a brass-made bayonet mount applied on the surface to reinforce strength for long-term use and enable high accuracy and solidity.

This lens will be available in Sigma, Sony, Nikon, Canon and Pentax mounts, starting with Canon mounts coming in July, 2012. Pricing and all availability for other mounts have yet to be announced.

To locate an authorized Sigma dealer nearest to you, visit http://www.sigmaphoto.com/where-to-buy-sigma. For information about Sigma Corporation of America, visit www.sigmaphoto.com.

*Sony and Pentax mounts are not incorporated with OS function.