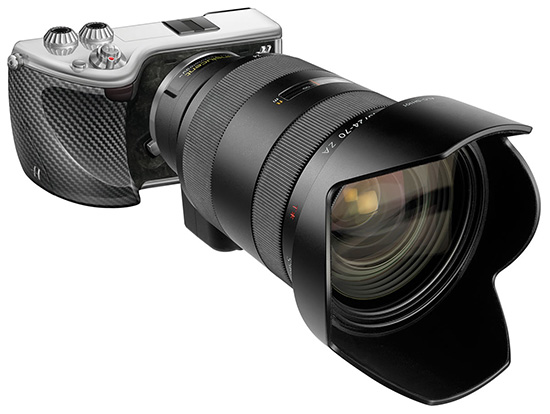 For the development of the Lunar mirrorless camera, Hasselblad joined forces with S0ny:
Hasselblad and Sony usher in a 'new dawn' with a long-term partnership that will enable the high-end medium format camera manufacturer to diversify for the first time into new market segments.
The Swedish company Hasselblad, pioneer and developer of the H System, the world's most advanced medium format digital camera system - used by top professional photographers all over the world - has decided to work with Sony Corporation to cultivate new markets for photo enthusiasts and consumer digital imaging products. Hasselblad is keen to expand and develop its product portfolio to include a new range of advanced mirrorless interchangeable lens cameras (a.k.a. compact system camera), which will be followed by new products for DSLR and compact camera segments.
Hasselblad and Sony have agreed further on plans for the two organisations to work together in efforts to achieve technical and engineering breakthroughs in various photographic technology challenges.
Said Dr. Larry Hansen, Hasselblad Chairman and CEO: "Following talks with Sony - the key player in the serious photographer and enthusiast market spaces - we are delighted to announce the emergence of a new dawn for Hasselblad. This partnership will enable us to access an area of the photographic sector, which we have never reached out to before, by tapping on Sony's excellent state of the art technology and spirit of ground breaking innovation. Owning a Hasselblad, made in Sweden, will no longer be just a dream for many photographic enthusiasts."
Shigeki Ishizuka, President, Sony Digital Imaging Business Group, added: "This is a very exciting partnership because Hasselblad's loyal customers with deep attachment to this prestigious photography brand get familiarised with Sony's industry-leading camera technologies. We believe that we can further enhance our digital imaging development and manufacturing expertise through this partnership, so that we will be able to offer increasingly attractive products to our customers for years to come."