More images and detailed specifications (Google translation) of the upcoming Panasonic GF6 Micro Four Thirds camera: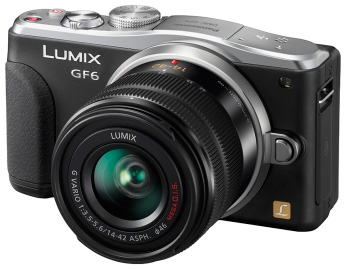 New 16.00-megapixel Live MOS Sensor and Venus Engine
Quick Response & Higher Mobility
Creative Panorama and Creative Control with 19 Filter Effects
Self Shot Mode with approx. Tiltable monitor 180 °
Easy Wireless Connectivity via Wi-Fi ® / Smartphones with NFC
High Quality 1920 x 1080 Full-HD Video with Stereo Sound
Price: € 549,00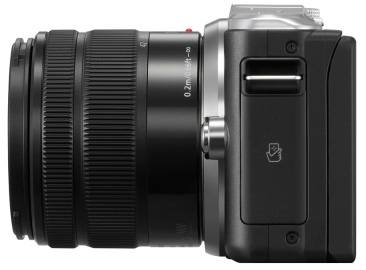 The DMC-GF6 Integrates new 16.00-megapixel Live MOS sensor and Venus Engine featuring its advanced noise reduction systems. By Extending the control level of noise, controllable area of noise is expanded by approx.64x in size and large block of noise is removed. The Multi-process works in two separate NR Allowing even finer steps over noise level monitoring. In Addition, the resolution limit is enhanced thanks to the required detail reproduction and advanced Intelligent D-range Control Ensures beautiful gradation with wider dynamic range than ever. GF6 Boasts The DMC-quick start-up and high-speed Light Speed ​​AF making it possible to capture fast-moving subjects Cleary. Also, AF Tracking Enables consecutive shooting to capture moving subject in sharp focus.
Combined With The Full-Touch AF area, it is possible to set focus on any point in the field of view Which realizes focusing quick and intuitive operation. In Addition, the LowLight AF performance in higher gains moonlight Such as AF assist lamp even without to set focus on the subject more Quickly and more precisely. The Creative control with 19 filter effects Gives You the expressive power to turn ordinary into highly special scenes Situations. The Creative Panorama function lets you apply filter effects to a dynamic vertical / horizontal panoramic image.
With the Self Shot mode, you can shoot your own portraits by stretching an arm to hold the camera with the monitor flipped approx.180 ° vertically. The Clear Retouch makes it is possible to erase unwanted objects or figures in an image by just tracing over them with a fingertip on monitor. With the Wi-Fi ® connectivity with NFC technology, you can connect the camera to your smartphone / tablet anywhere at one-touch, Which makes sharing images much easier. It is possible to use Also a smartphone / tablet as a multi-capable monitor with a remote shutter.
With the Instant Transfer function, photos are sent to the Automatically smartphone / tablet right after shooting. On the other hand, Both photo and video can be archived to the Registered Digital Equipment Such as PC Automatically via the wireless access point (router) at home. GF6 The DMC-record 1920 x 1080 full HD videos in AVCHD and MP4 format Both with full-time AF and high quality stereo sound in the AVCHD format.
With a dedicated video record button, you can instantly start recording videos without any having to make any additional setting adjustments. In Addition, the P / A / S / M mode lets you enjoy professional-like video recording expressive. The Stop Motion Animation Enables function producing a stop motion (stop frame) video in camera with the pictures That are sequentially shot while moving the object by degrees.