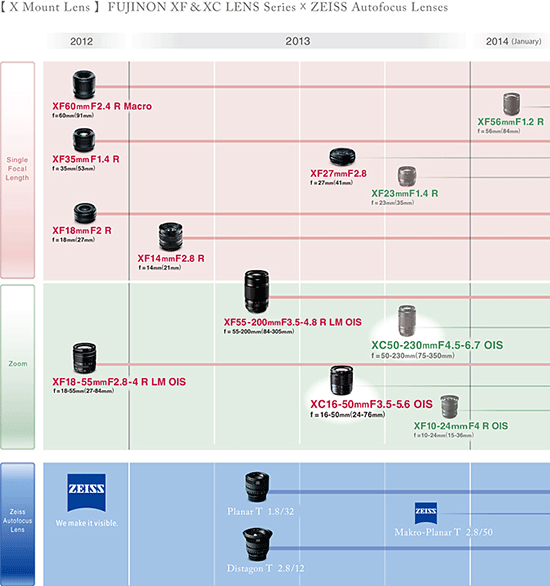 Fujifilm published an updated X-mount lens roadmap that includes a new XC 50-230mm f/4.5-6.7 OIS lens (75-350mm equivalent) that will start shipping by the end of the year.
Fuji also officially released the latest firmware update that will introduce focus peaking for the X-Pro1 and X-E1 cameras

Press release:
The latest information on the FUJIFILM X-Mount Lens Roadmap

FUJIFILM Corporation (President: Shigehiro Nakajima) is pleased to publish an updated version of the FUJIFILM X-mount lens roadmap. This is further to the last XF lens roadmap issued in April 2013.

A total of 10 high quality Fujinon XF lenses will be on the market by early 2014 and now an additional 2 Fujinon XC lenses have been added to this list. When you combine this with the 3 Zeiss lenses already announced, it brings the total number of X Mount lenses available to 15.

New XC Lenses

In response to market feedback and requests from users, Fujifilm is expanding its line-up of lenses to offer a new category of XC lens. These are "compact and casual" lenses and are perfectly suited to our mid-range X-M1 compact system camera. They feature all-glass elements and are lightweight and portable.

In conjunction with its X-M1 compact system camera, Fujifilm announced the launch of the first XC lens, an F3.5-5.6 standard zoom lens that covers a shooting range of 16-50mm (24-76mm). Today Fujifilm is announcing a second XC lens, an F4.5-6.7 telephoto zoom lens that covers the shooting range of 50mm to 230mm (75-350mm). This will be available by the end of the year.

Fujifilm will continue to strive for the development of lenses that cover a wide range of focal lengths and offer bright and high resolution reproduction even at the periphery, so that users can enjoy the high resolution features of FUJIFILM X-Series cameras.