Engadget published online by mistake their Olympus OM-D E-M1 hands-on video. The footage has now been removed, but there are several screenshots of the new camera circulating online.
Update - the video can be downloaded here.
You can now re-visit the previously posted description of the main controls of the E-M1: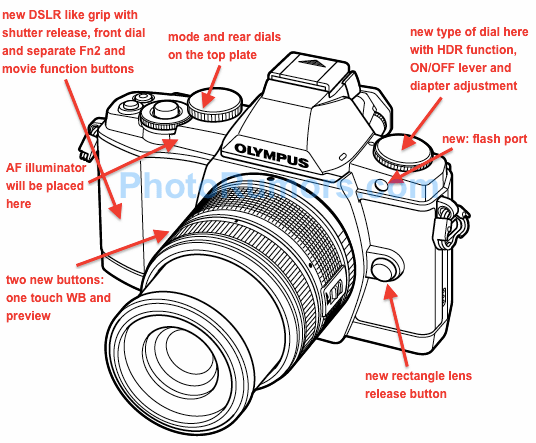 Here again are the E-M1 specifications:
New DSLR type grip
16MP sensor
81 AF target points
10 fps
Built-in Wi-Fi
Flash sync speed: 1/320s
ISO range: 200-25600
Shutter speed: 1/8000s-60s
3" tiltable TFT LCD touch screen
EVF with 2,360,000 pixels
Micro Four Thirds mount only (not a hybrid mount)
Weight: 430g | 0.9Ib
Dimensions (WxHxD): 122mm × 68mm × 37mm | 4.8" × 2.7" × 1.5"
Via Digicame-info