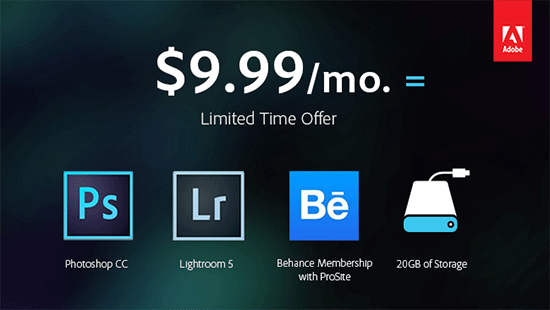 Another rumor materialized today: Adobe announced a new Photoshop Photography Program that includes Photoshop CC, Lightroom 5, Behance ProSite and 20GB of storage for $9.99 per month:
Beginning today, customers who own Photoshop CS3 or higher are eligible for a special Creative Cloud membership offer that includes all of the following for just $9.99/month:

Photoshop CC
Lightroom 5
20 GB of online storage
Behance ProSite
Access to Creative Cloud Learn's training resources
Ongoing upgrades and updates

To be clear, $9.99 is not an introductory price. It is the price for those of you who sign up by December 31, 2013. This offer will be available at the same time we introduce the new version of Lightroom 5.2 in a couple weeks.
On their blog Adobe mentioned that this offer is available today but I was told that you are not going to be able to sign up for the $9.99 plan till September 17, 2013.