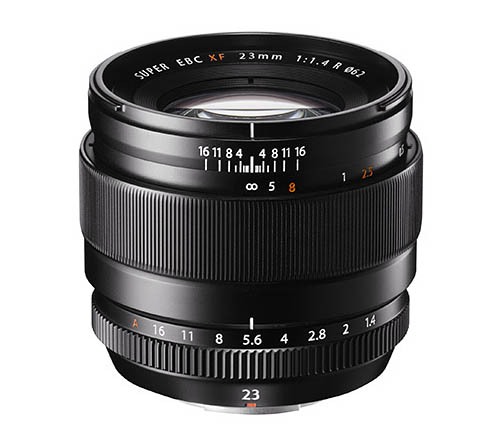 Fuji officially announced the Fujinon XF 23mm f/1.4 R lens. The price is $899.95, shipping will start on October 16, 2013, Amazon is now accepting pre-orders. Sample images from the new lens can be found here.
Press release:
FUJIFILM LAUNCHES ULTRA FAST FUJINON XF23MM F1.4 R WIDE-ANGLE LENS
New lens features outstanding speed for stunning photography, even in low light
Valhalla, N.Y., September 5, 2013 – FUJIFILM North America Corporation today announced the new FUJINON XF23mm F1.4 R, a premium wide-angle lens designed to work seamlessly with the award-winning line of X-Series compact system cameras.
The FUJINON XF23mm F1.4 R has a focal length equivalent of a 35mm lens, and is ideal for a wide range of applications including portraits and landscapes, as well as everyday photography. The fast maximum aperture of F/1.4 allows users to shoot hand-held in low light conditions and achieve sharp images, while also delivering beautiful bokeh for artistic images.
"Fujifilm is committed to expanding the X-Series line of high quality FUJINON lenses, and today's announcement brings the total number of available lenses to nine," said Manny Almeida, senior vice president and general manager, FUJIFILM North America Corporation. "The new XF23mm gives photographers everything that they want in one lens: speed, performance and versatility, and we know this new lens will exceed our users' expectations."
Ideal Lens for Everyday Photography
The new FUJINON XF23mm F1.4 R provides enhanced resolving power with crisp contrast to draw maximum performance out of the highly descriptive X-Trans CMOS sensor. The fast F/1.4 aperture allows the user to reduce blurring in low light conditions and achieve stunning shallow depth of field photography.
The FUJINON XF23mmF1.4 R features a camera-to-subject distance indicator and a depth-of-field scale on the barrel. Both are useful when manually pre-focusing to capture a fast moving subject, or minimize the shutter lag to capture a fleeting moment.
Lens distortion has been reduced to an absolute minimum using only optical rather than digital correction, thereby delivering the highest possible picture quality. The rounded seven-blade diaphragm ensures smooth bokeh even when shooting portraits or product shots at a medium aperture to maintain reasonable depth-of-field.
High Speed Autofocus
The FUJINON XF23mmF1.4 R uses an internal focusing system which incorporates a lens group consisting of three cemented lens elements and one aspheric lens element in order to keep weight down. Additionally, the built-in high-torque DC coreless motor delivers ultra-fast AF performance for the most demanding shooting opportunities.
All lens elements are treated with Fujifilm's multilayer HT-EBC (High Transmittance Electron Beam Coating) which delivers enhanced durability and ensures an even spread of light across the sensor.
Compact Size and Premium Design
The FUJINON XF23mmF1.4 R weighs 10.6oz and measures just 2.48" in length making it the most compact and lightweight lens in its class. Metal parts are used for the focus and aperture rings, which are designed to give just the right amount of torque and feel.
FUJINON XF23mmF1.4 R key features
• 35mm equivalent F1.4 lens
• Fully compatible with FUJIFILM X-Mount
• 1 lens group consisting of 3 cemented lens elements and 1 aspheric lens element
• Built-in high-torque DC coreless motor
• Seven round-edged aperture blades, which offer 22 stops in 1/3 EV steps
• Lens elements treated with Fujifilm's multilayer HT-EBC (High Transmittance Electron Beam Coating)