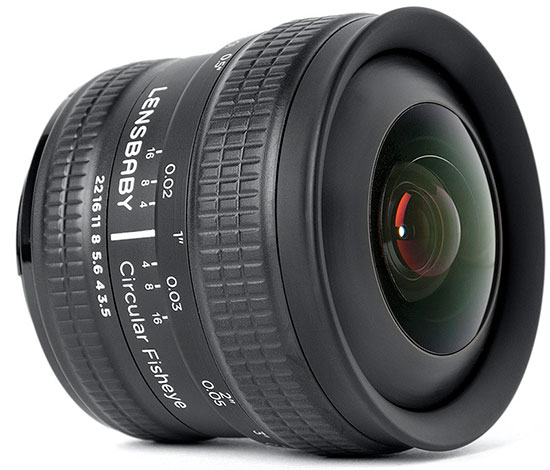 Lensbaby announced a new 5.8mm circular fisheye lens available for Nikon and Canon mount:
Overview
This Circular Fisheye lens is great for capturing the scale of endless landscapes and big events, fun self-portraits, quirky shots of pets or friends, creating extreme perspective, and experimenting with unique lens flare.  It is capable of capturing a 185° angle of view and focusing from 1/4 inch in front of the lens to infinity. That extreme close-focus paired with the incredibly wide 5.8mm focal length produces other-worldly distortion with exceptional sharpness throughout.
The Circular Fisheye is optimized for APS-C sensor DSLRs, while producing a smaller image circle on full frame DSLRs.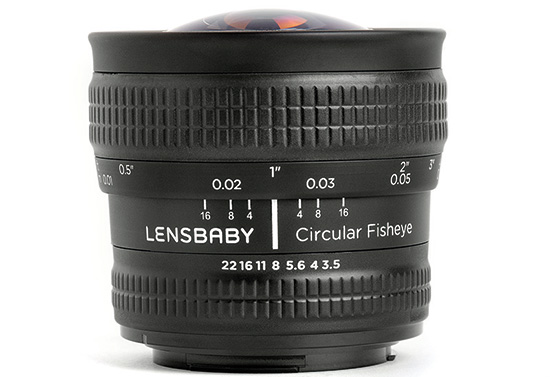 Specifications
Circular Fisheye lens
5.8mm focal length
185°  angle of view
f/3.5-22
Manual lens
Polished internal barrel for creative flare & reflection
Focus distance scale & hyperfocal scale to aid in focusing
Available for Canon EF & Nikon F camera mounts
Size/Weight: 2.75" (7cm) x 2.75" (7cm) x 3" (7.6cm) high / 10.5oz (298g)
Price: $299.95 (Nikon mount | Canon mount🙂
In the Box
Circular Fisheye lens
Front & rear lens caps
Microfiber lens pouch
User Guide w/ limited one-year warranty
Product Highlights
Full-circle image
185°  angle of view
5.8mm f/3.5-22
Extreme close focus from 1/4″
Creates unique flare & reflection around image circle
Manual focus
Edge to edge sharpness
Sample Photos