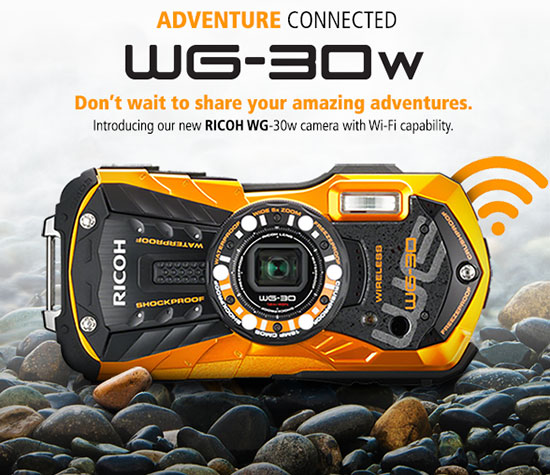 Just a month after the WG-M1 announcement, Ricoh came out with another "adventure" camera: the WG-30w is available in two colors and costs $276.95. Here are the camera's main features:
1. Heavy-duty construction for underwater shooting down to 40 feet deep, for up to two continuous hours
The solid, airtight body of the WG-30w is not only waterproof to a depth of 40 feet and for up to two hours of continuous operation (equivalent to IPX 8 or JIS Class 8), but also shockproof against falls from a height of 5 feet,* dustproof (equivalent to IPX 6 or JIS Class 6), freeze-proof to temperatures as low as -10°C, and crushproof against weights up to 220 pounds of force).** Thanks to this dependable, heavy-duty construction, it performs superbly and dependably in harsh, demanding outdoor conditions.
* Measured under RICOH IMAGING-original testing standards — from a height of 1.5 meters, onto a surface of 5cm-thick plywood — conforming to Method 516.5-Shock of the MIL-Standard 810F.
** Measured under RICOH IMAGING-original testing standards.
2. Newly designed back-illuminated CMOS image sensor and imaging engine
The WG-30w comes equipped with a state-of-the-art, back-illuminated CMOS image sensor, which assures excellent high-sensitivity and low-noise characteristics and high-speed readout of image data signals. Coupled with a newly designed imaging engine, this image sensor delivers a top sensitivity of ISO 6400 and super-high-resolution images with approximately 16.0 effective megapixels. These models also provide advanced image processing functions, made possible by the latest super-resolution technology, to assure sharp, clear, high-resolution images. They even offer such innovative features as Handheld Night Snap mode, which automatically captures four images of the same nighttime scene and produces a single blur-free composite image from them.
3. Wi-Fi connection to support remote operation using smartphones,
the WG-30W provides a host of Wi-Fi functions, including remote shutter release, confirmation of recorded images, and setting of various shooting functions. The user can also browse and download recorded images onto a smartphone, then upload them to social networking and other websites to share them with family and friends.
4. High-quality images made possible by advanced imaging technologies and a 5X optical zoom lens with 28mm wide-angle coverage
The WG-30w feature a high-performance, five-times optical zoom lens with a focal-length coverage from 5mm to 25mm (equivalent to approx. 28mm wide angle to approx. 140mm medium telephoto in the 35mm format) to accommodate a wide range of scenes and subjects, including sweeping landscapes. They also feature other convenient shooting functions, such as a macro mode to capture dramatic close-up images from a minimum distance of a mere one centimeter; an Intelligent Zoom function to extend the zoom range to approximately 36 times (equivalent to 1008mm in the 35mm format) without compromising image quality for high-quality super-telephoto photography; and an interval shooting mode, which comes in handy for fixed-point observation. Specifically designed for underwater photography, the Mermaid and Mermaid Movie modes are programmed to optimize color and contrast based on the data of images and movies actually captured under the water. These modes deliver beautiful, true-to-life images by enhancing shades of red which are often lost in underwater photography, while effectively compensating for the loss of contrast caused by the diffusion of light in the water.
5. Six Macro Lights to assist close-up shooting, with a Self-Portrait Assist mode
With six LED Macro Lights positioned around the circumference of the lens barrel for macro shooting, the WG-30w provides bright, uniform illumination on the subject when the Digital Microscope mode is selected.*** Thanks to these Macro Lights, the user can clearly see on the camera's LCD monitor a magnified view of the microscopic world undetectable by the naked eye, and effortlessly capture eye-catching images. In order to minimize camera shake and subject, the Instant Illumination Enhance function allows for the use of a higher shutter speed by automatically raising the illumination level of the Macro Lights at the moment of shutter release. The Macro Lights also provide other useful functions, such as Self-Portrait Assist mode, which uses the blink of an LED lamp to check if the subject's face is safely captured within the picture frame, and the LED Lighting mode that uses the Macro Lights as a lighting device in the dark.
*** When this mode is selected, the recorded size is fixed at 2.0 megapixels (at 16:9 proportions).
6. Full HD movie recording for extended shooting of high-quality movies
The WG-30w provides Full HD movie recording employing the H.264 recording format, allowing the user to capture high-quality, extended movie clips (1920 x 1080 pixels, 16:9 proportions) at a frame rate of 30 frames per second. They also feature a high-speed camera function**** for slow-motion playback of captured movie clips, and an interval movie function. A micro-HDMI terminal (Type D) is also provided on the camera body for simultaneous output of Full HD movie clips and sound to external audio-visual devices.
**** When this function is selected, the recorded size is fixed at 1280 x 720 pixels.
7. Triple anti-shake protection to prevent blurred images in all applications
(1) Pixel Track SR mechanism
When recording still images, this advanced shake-reduction mechanism effectively compensates for camera shake by digitally processing affected images.
(2) Digital SR mode
When the camera detects low-lighting conditions in still-image shooting, this mode automatically raises the sensitivity up to as high as ISO 6400, making it possible to use a higher shutter speed and effectively minimize the adverse effects of camera shake and subject shake under poor lighting conditions.
(3) Movie SR mode
During movie recording, this mode effectively compensates for the misalignment of images caused by camera shake through the use of exclusive software to produce beautiful, blur-free movie clips.
8. 2.7-inch, wide-screen LCD monitor
The WG-30w comes equipped with a large, 2.7-inch LCD monitor with horizontally extended 16:9 proportions and approximately 230,000 dots. Its AR (Anti-Reflection) coating minimizes annoying glare and reflections to assure a sharp, clear on-screen image even in the harsh sunshine often encountered during outdoor shooting.
9. Other features
・ A range of WG-series mount accessories (optional) to accommodate diverse camera setups
・ Two remote control receptors (one in front and another on the back) to widen signal coverage
・ Macro stand (included) to maintain a minimum focusing distance of one centimeter to the subject during extended observation and shooting
・ High-speed Face Detection function to capture as many as 32 faces in focus in approximately 0.03 seconds (minimum); Smile Capture function to automatically release the shutter when the subject's smile is detected
・ Outdoor-friendly Style Watch function to display the time on the LCD monitor, using an extended push of the OK button when the camera's power is turned off
・ Delay-free, pushbutton start of the playback mode, using an extended push of the playback button
・ Auto Picture mode to automatically select the most appropriate shooting mode from 16 different scene modes
・ A choice of 12 digital filters
・ Pet detection function to automatically detect the face of a cat or dog
Several different mounts for the Ricoh WG-30w are available:
RICOH WG-30W RICOH IMAGING ANNOUNCES THE LATEST ADDITION TO THE WG SERIES COMPLETE WITH BUILT-IN WIFI
Denver, Colorado October 8, 2014   RICOH IMAGING AMERICAS CORPORATION announces the launch of the new Ricoh WG-30W. Building on the heritage of  the amazing adventure proof cameras in the WG series, the WG-30w comes equipped with built-in Wi-Fi connectivity and advanced smartphone support functions so one can easily browse through and  download their adventures to share with family and friends. Designed to capture outdoor activities effortlessly, the WG-30w has a durable construction and a variety of outstanding features that make it ideal for those with an active lifestyle.
The WG-30w is outfitted with a new state-of-the-art, back illuminated CMOS sensor and 16 effective megapixels. This rugged camera assures brilliant images with low noise, even in dimly lit situations. In keeping with the tradition of the WG line, this new addition is lightweight and compact, yet it is tough enough to perform under a variety of outdoor conditions. The solid, airtight body is not only waterproof to an impressive depth of approximately 40 feet, but also shockproof from a height of 5 feet, crushproof against weights up to 220 pounds, and coldproof to temperatures as frigid as -10 degrees C. This new model includes the WG original Digital Microscope mode allowing the user to capture even the slightest detail, like a pebble in a mountain stream,  while six Macro lights positioned around the lens allow the subject to be more illuminated.
Thanks to its Full HD movie recording, the user is able to capture high-quality, extended movie clips at a frame rate of 30 frames per second while its enhanced underwater mode achieves better imagery for those hard to capture underwater shots.
The WG-30W comes available in two striking colors, Carbon Grey and Flame Orange and has 10 optional accessories available including a handle bar mount, a helmet mount, and a magnet mount.
Pricing and Availability
The WG-30 will be available at retailers nationwide and at www.ricohimaging.com in December 2014 for a suggested retail price of $299.95.
Additional information available at Ricoh's website.