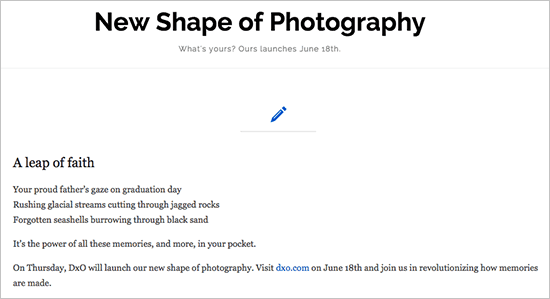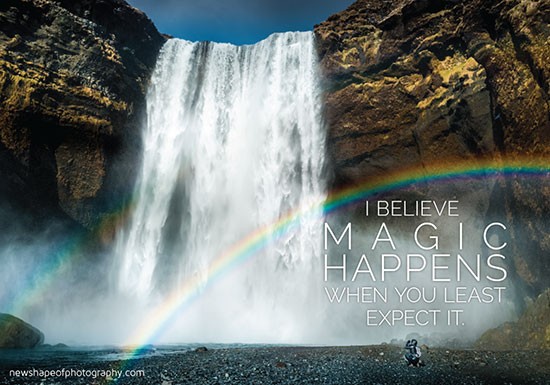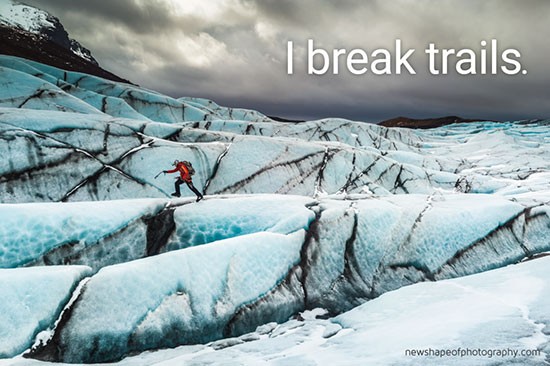 The DxO teasers I posted yesterday are for a new DxO ONE camera that will attach to your smartphone. The official announcement will be on the 18th. Here is some additional information, including technical specs thanks to Google cache (thanks for the tip Spike!):


The new shape of photography.
DxO ONE. The pocket-size camera that pairs perfectly with your iPhone, so you can take amazing photos anywhere.
DxO ONE packs the power of a high-end camera into a size that's by your side and ready when you are. Our advanced image processing automatically enhances every photo you take.
1″ Sensor
f/1.8 Max Aperture
20.2 Megapixels
1080p HD Video
iPhone, meet DxO ONE
Connect DxO ONE to your iPhone to turn that big, beautiful screen into a big, beautiful viewfinder. Swivel and shoot to take great photos in any condition, at any angle. Plus, it has its own memory card and battery so it won't drain your phone or steal its storage. Share your shots instantly, right from your phone.
The mobile app makes everything easy
Everything is controlled by a simple iPhone and iPad app you download for free in the App Store. Browse your photos, change shooting modes, adjust shutter speeds, and access all the camera's features from the iOS interface.
The world's smallest 1″ sensor camera
Weighing less than 4 ounces and well under 3 inches tall, DxO ONE is built to fit in your pocket, so you can capture life's magic without lugging around your DSLR. Fits in your pocket.
Smart design inside & out
Durable materials, including forged aircraft grade aluminum, blend modern design (and good looks) with a premium feel.
Better photosmake better memories
DxO ONE delivers impressive image quality in a small size, so you can capture life's magic wherever you go.
DSLR image quality in your pocket
Your DSLR takes wonderful photos, but it's not the easiest thing to carry with you. Enter DxO ONE.
A lens that lets you control depth of field
DxO ONE's high quality, 6-element aspherical lens has a maximum aperture of f/1.8 and an adjustable iris, helping you capture everyday moments in all their vitality.
A powerful 1" sensor for sharper images
DxO ONE packs a powerful 1-inch sensor into a compact frame. (In fact, it's the world's smallest 1-inch sensor camera.) Expect brighter, sharper photos in any condition.
The world's most advanced image processing
Every photo you take with DxO ONE is automatically optimized with our advanced image processing (an area we've led for 10+ years). You can also pass your RAW files through the DxO Connect software on your computer. Sit back as our PRIME denoising technology intelligently suppresses noise while preserving detail and color.
We are scientists dedicated to the art of photography.
Founded in 2003, and headquartered in Paris and San Francisco, DxO is a team of image scientists and engineers devoted to capturing and creating exceptional photography. We create embedded technologies in use by the world's leading camera and smartphone companies, award-winning image processing software cherished by serious photographers, and the revolutionary DxO ONE, which has redefined what a connected camera can be.
The mobile app is like every DSLR you've ever owned, only quicker and easier
When you buy DxO ONE, you also get DxO FilmPack and (for a limited time) the Elite Edition of DxO OpticsPro — our professional editing software (a $300 combined value). Your photos will look great the moment you snap them, but if you want to go a step further, you'll have the power to enhance them even more and add your own creative touch.
Bring home DxO ONE
Price: $599
20.2MP
Still Resolution (5406X3604)
1080p/30fps Video Resolution 720p/120fps
1″ format
Sensor Size: 13.2×8.8mm
Sensor Type: CMOS – BSI
Focal Length: 11.9mm (equivalent to 32mm in full frame)
Lens cover: Integrated, sliding (on/off)
Aperture: f/1.8 adjustable down to f/11 (6 blade iris)
Shutter button: 2-stage
OLED Settings display, touch control
Iso Range: From ISO 100 to ISO 51200 (Hi 2)
Shutter Speed: From 1/8000 to 15s
Image Stabilization: Electronic (for video)
Camera modes: Auto, Sports, Portrait, Landscape, Night, Program, Aperture Priority, Speed Priority, Manual, Selfie
Video modes: 1080p (30 fps), 720p (120fps)
File formats: .JPG, .DNG, .DxO (SuperRAW™), .MOV (H.264)
Focus range: 20cm – infinity
Autofocus: Contrast detect, using face-detection
Focus modes: Single-shot, continuous, tap-to-focus
Metering modes: Spot, center weighted, multi-zone
Zoom: Digital 3x
Micro USB port
USB 2 (power charging, mass storage connection)
Lightning connector: Retractable/collapsible, +/- 60º rotation
Screen size: Varies, function of connected iDevice between 4" and 9.7"
Screen resolution: Varies, function of connected iDevice between 727,040 and 3,145,728 dots
Storage type: microSD UHS-I U3 (not included)
Orientation: Gyroscope + accelerometer
Battery type: Integrated lithium ion
Battery life: ~200 photos
Weight: 3.8oz (108g)
Dimensions: 67.5 x 48.85 x 26.25 mm
Compatible with: iPhone 6 Plus, iPhone 6, iPhone 5s, iPhone 5c, iPhone 5, iPad Air 2, iPad mini 3, iPad Air, iPad mini 2, iPad (4th gen), iOS 8 or later
FAQs
How is it possible for DxO ONE to capture images as good as a DSLR?
Within the camera industry, we're known and respected for our deep knowledge on the science of image processing and for spending over a decade partnering with camera companies, other scientists, and academics. Over 300 million cameras worldwide contain our embedded imaging software, and we created DxOMark, the global standard for objectively grading image quality.
The DxO ONE camera can record two types of RAW files: default RAW files in DNG format, and DxO's proprietary SuperRAW™ format which automatically merges four RAW files into one. SuperRAW™ and DxO's advanced image processing, which includes the very latest in spatial and temporal noise reduction, allows the ONE to achieve a DxO Mark sensor score of 80, demonstrating that the quality of images produced by DxO ONE far exceeds that of most high-end digital cameras, even DSLRs costing and weighing considerably more. Read the full DxOMark ONE review here.
Will DxO ONE impact either the battery life or storage space on my iPhone?
DxO ONE is powered by its own rechargeable battery and saves the pictures you take to a microSD memory card (available in the DxO shop). It won't drain your iPhone battery, and you can choose whether or not to automatically save photos to your iPhone.
What do I need to get started with DxO ONE?
You can use the DxO ONE as a standalone camera, but you'll need a compatible iPhone or iPad to get the big, interactive viewfinder and many other powerful DSLR features. When connected, you can easily access your DxO ONE photos on your iPhone and iPad. Which means you can easily edit them in Photos or your favorite app, and you can share them via Facebook, Instagram, Twitter or anywhere else you care to share your photos. (Note: DxO ONE is currently available for iOS only)
Do I need to have DxO software to use DxO ONE?
Default images from DxO ONE are captured as DNG files so you can view and edit them in Adobe Lightroom or your preferred photo app. In addition, you get DxO FilmPack for free and DxO OpticsPro Elite Edition (free for a limited time),so you'll have incredibly powerful and intelligent photo correction software at your fingertips.
Can I share photos from my DxO ONE?
Yes! The free DxO ONE app for iOS lets you instantly share via Mail, Message, Facebook, Instagram, Twitter and more, when connected to your iPhone.
Can I return the DxO ONE if I don't like it?
Of course. If you don't love using it, send it back within your first 30 days with your receipt. We'll even pay the return shipping.
At this time, the DxO ONE can only be purchased in the US, but we're working to bring it to you.
Ships in 2-3 weeks
In the box
DxO ONE
USB cable and power adapter
Microfiber cloth
Quick Start booklet