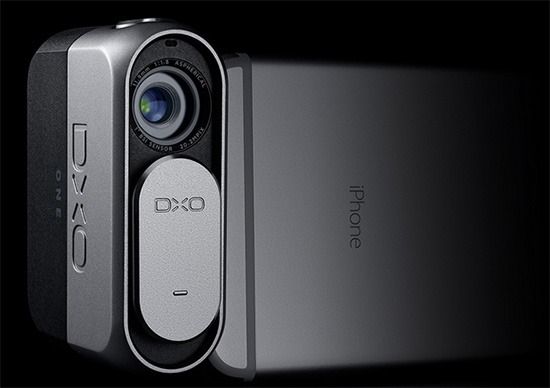 The DxO One camera for iPhone is now officially announced and is available for pre-oder at $599. You should have already seen the teasers, the leaked pictures of the camera and the detailed specs from my previous posts. In case you missed them, visit dxo.com for more information. The DxoMark scores for the new camera are already available: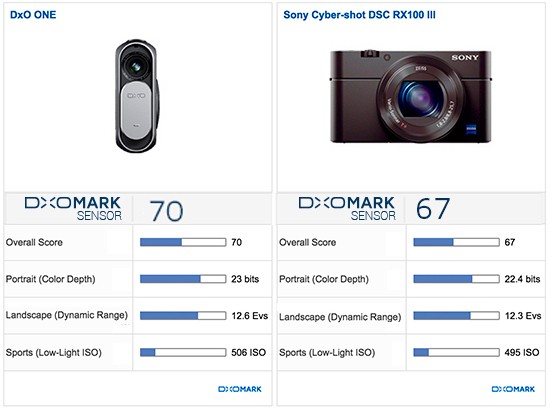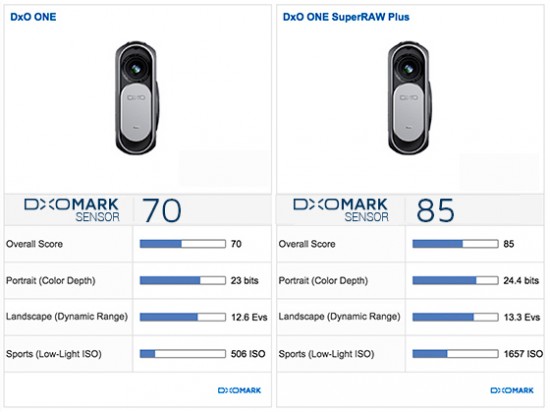 Here is the full press release: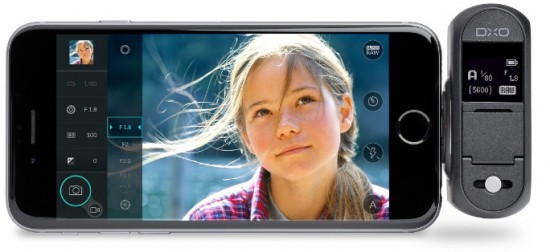 SAN FRANCISCO and PARIS, June 18, 2015 /PRNewswire/ — DxO, a world leader in digital imaging technologies, today introduced the DxO ONE, a revolutionary camera that delivers DSLR image quality in an extremely compact size. At 3.8 oz (108 g) and 2.65″ (6.9 cm) tall, the DxO ONE is so small that it easily fits in a pocket, yet it features an ultra-high quality f/1.8, 32mm equivalent aspherical lens with a variable 6-blade iris and a 1-inch 20.2MP CMOS BSI sensor capable of capturing high-resolution images even in very low light.
Made of high-grade aluminum, the DxO ONE is a premium camera that has been engineered with the iPhone and iPad® in mind: it attaches via the Lightning™ connector, turning the beautiful iPhone display into the camera's viewfinder. The camera swivels 60 degrees in either direction, enabling creative perspectives.
The DxO ONE achieves a DxOMark Sensor Score of 70, and up to 85 when using the SuperRAW™ technology (described below), on par with full frame DSLRs and dramatically higher than any smartphone.  DxOMark is the industry-standard protocol for camera and lens image quality assessment, used throughout the camera industry and photography press.
"The image quality of the DxO ONE is stunning," said Jerome Meniere, CEO and founder of DxO. "It's possible to shoot crystal-clear images under moonlight, which is incredible for a camera this small. The shallow depth of field and bokeh of the lens at f/1.8 is absolutely perfect for portrait photography."
A free iOS app enables control of the individual settings on the DxO ONE camera, including aperture (from f/1.8 to f/11), shutter speed (from 15s to 1/8000s), and ISO (from 100 to 51200). In addition to an Auto mode, the DxO ONE app offers various capture modes, including multiple Scene modes, Speed, Aperture Priority, or full Manual mode – and the camera interface automatically adapts to the selected mode for a unique user experience.
The DxO ONE also records outstanding videos at 1080p/30fps or 720p/120fps.
In addition to the built-in microSD™ memory card, photos or video can be automatically stored in the iOS camera roll, where they are immediately displayed on the iPhone's or iPad's beautiful high-resolution screen, and can be instantly shared to Facebook®, Instagram®, and Twitter®, leveraging the iPhone's natural connectivity.
By default, the DxO ONE automatically keeps the valuable high-dynamic RAW 'digital negative' files, enabling post-production editing flexibility in RAW conversion programs like DxO OpticsPro and Adobe® Lightroom®.
For the ultimate in noise-free image quality – even in very low light – users can choose to capture images in DxO's new SuperRAW format. A SuperRAW file is the result of 4 RAW frames captured in quick succession. When the DxO ONE camera is connected to a Mac or PC, the DxO Connect companion software automatically merges the four images together using the very latest in spatial and temporal noise reduction.
"The DxO ONE leverages all of the imaging technologies that we've been perfecting for well over a decade," explained Frederic Guichard, DxO's Chief Image Scientist. "It brings together mobile imaging miniaturization technologies with a large 1-inch sensor and state-of-the-art software image processing."
"Being image lovers at DxO, we have built the camera we dreamed of for ourselves and could not find anywhere else: uncompromised image quality always available in our pocket," concluded Jerome Meniere, CEO and founder of DxO. "We believe that, as the first truly connected camera, the DxO ONE opens a completely new era in digital imaging and we can't wait to see what incredible images photographers around the world will be able to create with it."
Pricing & Availability
In the US, the DxO ONE can be pre-ordered today from www.dxo.com, with shipments planned to begin in September. Pre-order and availability dates for other countries are available on DxO's website.
The DxO ONE is offered at a price of $599. For a limited time, the DxO ONE comes with free licenses of two award-winning RAW image processing software, DxO OpticsPro (ELITE Edition, sold separately for $199), and DxO FilmPack (ELITE Edition, sold separately for$129), which digitally reproduces the look and feel of analog films.