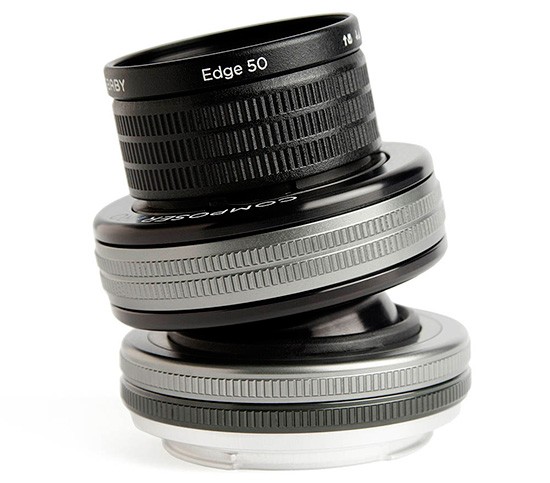 Lensbaby announces new and improved Composer Pro II with Edge 50 Optic available for Canon EF, Nikon F, Sony Alpha A, Pentax K, Fuji X, Sony Alpha E, Micro 4/3rds, and Samsung NX mounts. The price is $425.
Additional information:
Composer Pro II with Edge 50 Optic is a high-quality, 50mm f/3.2 upgraded metal-bodied tilt lens that lets you control depth of field in-camera for an authentic, immersive shooting experience. Photographers can use the lens to create images with a sharp slice of focus bordered by silky, smooth blur. The lens body swivels and tilts on a smooth metal ball and socket design, providing a fast and intuitive way to switch between traditional straight lens photos and tilt photography. Using selective focus, shooters can lead the viewers' eyes on a unique journey through landscapes, close-ups, miniature effects, street photography and food photos.
Composer Pro II with Edge 50 Optic product highlights:
50mm f/3.2 flat field of focus optic that when tilted creates a slice of sharp focus, bordered by blur.
Shoot with the lens pointed straight ahead for images like those shot with a high-quality prime lens.
New Composer Pro II lens body features an upgraded metal body for precise tilt and focus control.
Perfect for landscapes, street-photography, close-ups, miniature effects and food photography.
Composer Pro II with Edge 50 Optic specifications:
Focal Length: 50mm
Aperture range: f/3.2 through f/22
9-blade internal aperture
Flat field optic (creates a slice of sharp focus)
Minimum focusing distance: 8" from the front of the lens
Maximum focusing distance: Infinity
Focus Type: Manual
Size/Weight: 3.25" (8.25 cm) high x 2.5" (6.35cm) wide / 10 oz (283.49 g)
Tilt: up to 15 degrees
Compatible with the Lensbaby Optic Swap System
8 multi-coated glass elements in 6 groups
46mm filter threads
Sample photos: