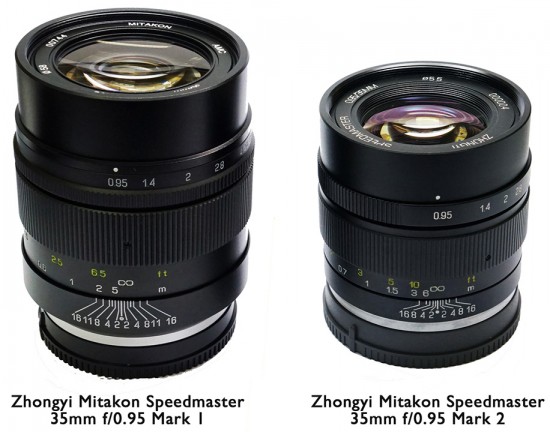 ZY Optics released a new and improved Zhongyi Mitakon Speedmaster 35mm f/0.95 Mark II lens designed for Sony E, Fuji X, Canon EOS-M mirrorless cameras (no MFT). The price of the new version is $799 (available for pre-order now).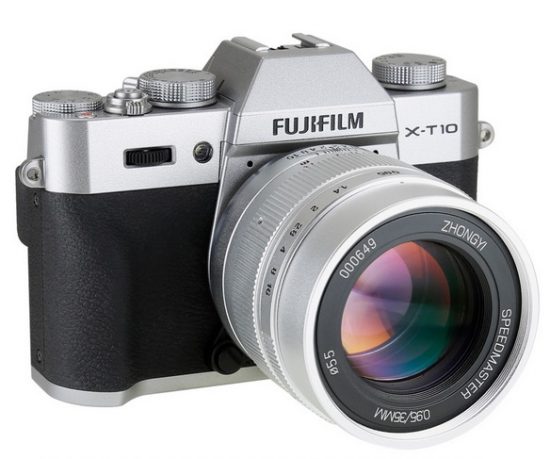 Technical specifications: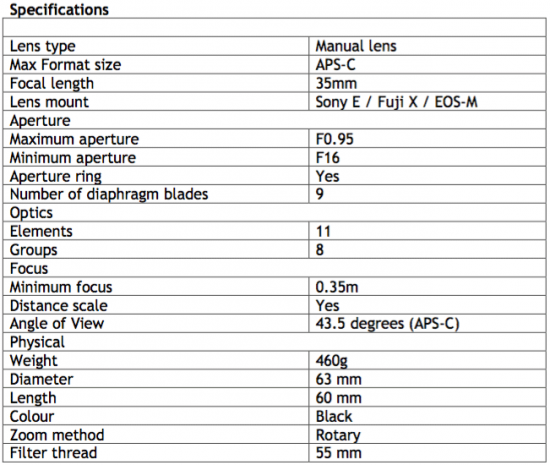 Features:
Exceptionally fast 35mm lens features an f/0.95 maximum aperture for selective focus control and working in low-light conditions.
Designed for use with APS-C-sized image sensors, this lens provides a 35mm-equivalent focal length of 52.5mm.
Six extra-low dispersion elements reduce chromatic aberrations and distortion as well as contribute to notable image sharpness and clarity.
Manual focus design is complemented by both depth of field and distance scales for utilizing pre-focusing and zone focusing techniques.
A ten-bladed aperture contributes to an aesthetic out-of-focus quality.
Sample images can be downloaded here.
Press release:
Shenyang China, Feb 14, 2016 – Zhongyi Optics (ZY Optics) has released an improved version of their first f/0.95 lens, Zhongyi Mitakon Speedmaster 35mm f/0.95 Mark II. The mark II verison features a drastic improvement of sharpness, better control of chromatic abberations and much compact size. The new version comes with a Fuji X / Sony E / EOS-M mount and is able to cover the image circle of APS-C sized sensors.

Zhongyi Mitakon Speedmaster 35mm f/0.95 Mark II is a ultra-fast prime lens which provides a 35mm-equivalent focal length of around 53mm in APS-C cameras. A maximum aperture of f/0.95 makes it extremely convenient to shoot at a low light conditions without flash. The new optical design incorporates a 11 elements in 8 groups structure, including 1pc of Extra- low disperson elements, 2 pcs of Extra-high Refractive Index elements and 3pcs of High Refractive Index elements. This structure effectively improved the image resolution by 30% compared to the previous version from corners to corners. This also controls the chromatic abberations very well and deliver excellent image sharpness even at f/0.95.

The new Speedmaster 35mm f/0.95 is light and compact. The total weight is reduced from 680g to 460g, making it an ideal companion for the compact mirrorless cameras. Manual focus design and a click-less, silent aperture ring promote smooth handling and are especially well-suited to video applications. The lens is built in metallic enclosure with additional protective process and finest finishing, which gives extra durability and aesthetic.

Pricing & Availability

Mitakon Speedmaster 35mm f/0.95 is now available to purchase at ZY Optics authorized resellers and at our official website (http://www.zyoptics.net/). The Recommended Retail price is USD 599.
Shenyang Zhongyi Optical and Electronic Company (ZY Optics) is a leading Chinese camera lens & adapters manufacturer. We currently manufacture and distribute lenses and lens turbo adapters under the brand name of 'Mitakon' & 'Zhongyi'.