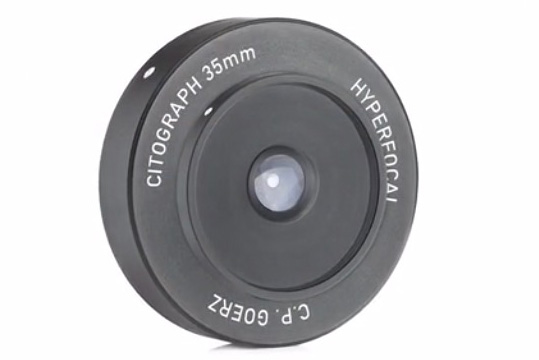 Update: the lens is now officially announced.
This week a new German startup company will launch the pictured above C.P. Goerz Citograph 35mm f/8 lens on Kickstarter. From the leaked picture it appears that the lens will not have any focusing mechanism. The new lens will be available for almost all available mounts. Stay tuned for details.
You can read more on the original C. P. Goerz company that was founded in 1886 on Wikipedia:
C. P. Goerz was founded in 1886 by Carl Paul Goerz. Originally, it made geometrical drawing instruments for schools. From 1888 it made cameras and lenses. During the First World War, Goerz's main production was for the German and Austrian military. Goerz is known primarily for Anschütz strut-folding cameras, Dagor lenses and Tengor, Tenax cameras, (later continued by Zeiss Ikon) and Minicord subminiature camera.

In 1926 the German branch of Goerz merged with ICA, Contessa-Nettel and Ernemann to form Zeiss Ikon. This had major consequences for the company; the Carl Zeiss company held a majority stake in the new company and demanded that the other firms end their lens production. This was the end of the famed Dagor lenses, at least in Europe.
My guess is that somebody bought the brand and will now develop new lenses under the same name with the help of Kickstarter funding.