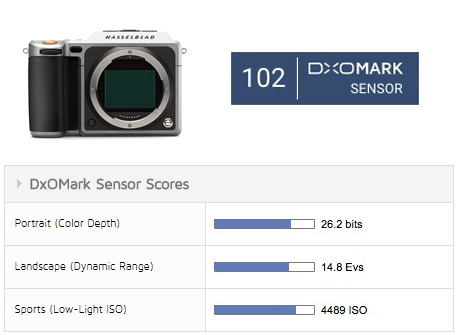 DxOMark published their test results for the Hasselblad X1D medium format mirrorless camera (starting from $8,995). Here is their conclusion (click for larger view):
"Image quality on the Hasselblad X1D-50c is outstanding, crashing through the 100-point barrier to become the highest-scoring commercially-available sensor we've tested. At 102 points overall, it also achieves either the best, or very close to the best results for both color depth and dynamic range. Combine that with its 50Mp resolution and mirrorless design, all packaged at a more realistic price tag, the X1D-50c starts to look like a tantalizing prospect.

That said, while its image quality is up there with the best, it's not significantly better than other super high-resolution full-frame sensors, such as the Nikon D850 DSLR or the Sony A7R II, except in low light. So whether the X1D-50c is right for you may depend on your preference for shooting medium format, the flexibility of leaf shutter lenses for high speed flash sync, or other factors such as the range of available lenses and accessories. But for pure sensor performance, the Hasselblad X1D-50c delivers outstanding results and phenomenal image quality."
Related posts:
Nikon D850 DxOMark sensor review: the first DSLR to hit 100 points
Via DxOMark
---