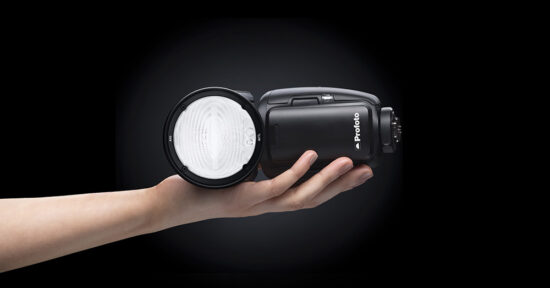 The previously rumored Profoto A10 flash unit is now officially announced and is already in stock at Adorama (available for pre-order at B&H). Here are the details:
Round flash head for natural light with smooth fall-off
Works with all magnetic Profoto Clic light-shaping tools
Compatible across Profoto Air, Air TTL, and Connect triggers
Bluetooth-enabled AirX technology for future-proof compatibility with mobile cameras
Smart connectivity via Profoto app
Clean, easily navigable interface
Fast flash recycling
High-capacity Lithium-Ion battery that's exchangeable and rechargeable
Flash head has 90-degree tilt and 360-degree rotation
Laser AF-assist and LED modeling light included
Auto or manual zoom for flash and modeling light
AirX technology enables smartphone connectivity:
The Profoto A10's new AirX Bluetooth-enabled technology makes this flash both user-friendly and ready for the future. You can easily control the A10 straight from your smartphone, via the Profoto app. This means you can use this flash to its fullest no matter your camera model. Plus, smartphone connectivity guarantees you can access any firmware updates. Simply put, you can use this flash for years to come.
Check out also the first look report from Explora.