Megapixels interviewed Dominic Papenheim from Olympus Europe and published some interesting hints.
Olympus sees the PEN camera line as their future: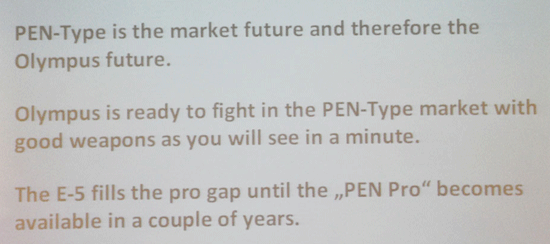 On the question about a future Olympus PEN Pro model that was part of the presentation, the Olympus representative answered:
"We see the mirrorless system as the future of digital photography. In 5-10 years reflex cameras will be a niche or will not be there at all. So we believe that PEN in the long run will also be in the professional market – but that will take maybe 2-3 years. In 2011 you will see more PEN products and more lenses (beyond what was discussed in the presentation)."
In an interview back in 2009, Olympus also mentioned that they are working on professional PEN products including electronic viewfinder and flash.