Adorama currently has listed the two different Canon EOS M kits (with 18-55mm and 22mm f/2.0 lenses) as "no longer available". Another online retailer (OneCall) has also listed the camera as "currently unavailable":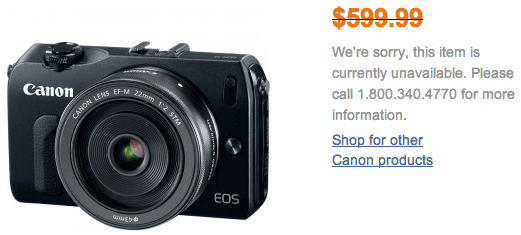 After the recent 50% price drop, the EOS M is listed as backordered at B&H, while Amazon only has discounted the 18-55 EOS M kit.
Two new OES M cameras have been rumored to be released this summer (see possible specs here). One of the models could have an EVF.
Update on the two new Canon mirrorless cameras:
"We're told that an EOS-M with the new dual pixel sensor won't be shipping until after the 70D (September) and that a basic EOS-M upgrade with the 18MP sensor will precede it. Also mentioned is a Canon version of a focal reducer being developed for EF lenses, this will be announced with the 20MP dual-pixel sensor version of the EOS-M."