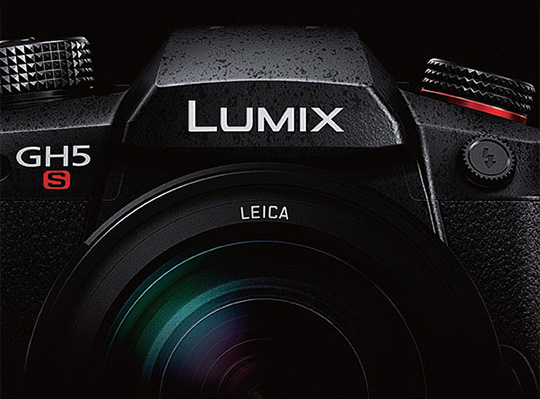 Since I broke the news about the Panasonic GH5s a few months ago I never realized that all the camera specifications I received from sources did not mention IBIS anywhere. I assumed that this was just given and there was no need to include it. When the GH5s was announced I was surprised to find out that the latest MFT camera doesn't have IBIS – one of the most marketed feature of mirrorless cameras in the past 10 years. After our initial discussion here on the blog, I did some more Googling and found that IBIS indeed could be a problem for filmmakers (which is what the GH5 is mainly used for) – the sensor can vibrate even with IBIS turned off when the camera is attached to a car or when close to a subwoofer for example. Here is what Dpreview has to say:
The camera's sensor-based stabilization is gone, which may on the surface sound like an odd decision, but makes a lot of sense for pro video shooters who are often working with their own stabilized rigs and gimbals. The floating sensor design used by the GH5's stabilization system can interact with gimbals even when it's turned off, so removing it entirely solves the problem.

We've seen a degree of scepticism about Panasonic's reasoning but, if you assume there's some heat dissipation benefit for bonding the sensor to a solid object and you recognize that the camera is already shooting out to the edges of the Micro Four Thirds image circle, there may be no way of doing what the GH5S does and providing stabilization.
Here is some video footage showing the difference between the GH5 camera with IBIS turned off and the new GH5s:
Imaging Resource did an ISO comparison between the Panasonic GH5s ($2,500) and Sony A7SII ($2,700) cameras: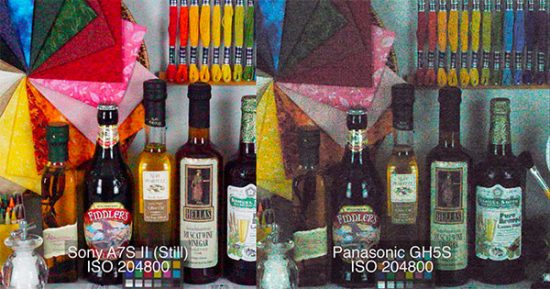 You can also check Dpreview's comparison: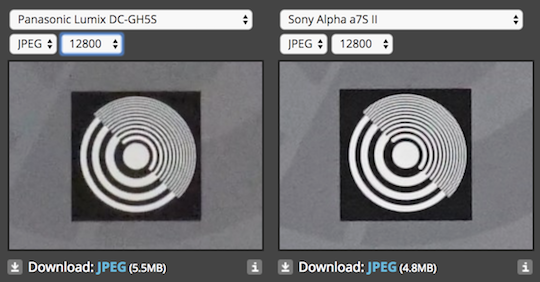 Here are two more related videos:
Interview with Yosuke Yamane-san – the head of imaging at Panasonic:
Panasonic GH5s ($2,500) vs. Panasonic GH5 ($2,000) specifications comparison: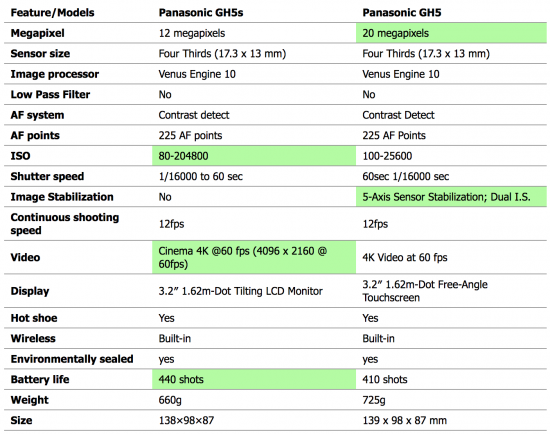 A reader calculated the crop factors for each aspect ratio on the GH5s based on camera specs:
3680 pixel long in 4/3 = 2x crop factor in 4/3 still mode
3840 pixel long in 3/2 = 1,91x crop factor in 3/2 still mode
4016 pixel long in 16/9 = 1,832x crop factor in 16/9 still mode
4096 pixel long in 17/9 = 1.796x crop factor in 17/9 (DCI 4K) video mode
3840 pixel long in 3/2 = 1,91x crop factor in 16/9 4K UHD video mode.
35mm means 3680×3680 = 7360 pixel long or 1x crop factor
If you add a Speed Booster Ultra to the GH5s you get in DCI 4K a crop factor of 1,275x with 35mm lenses.
If you add a Speed Booster XL to the GH5s you get in DCI 4K a crop factor of 1,149x with 35mm lenses.