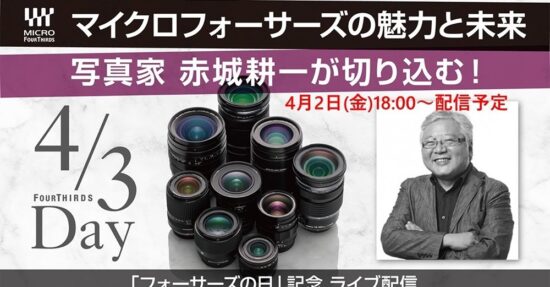 For almost a decade Olympus has been making official statements that they will not make a full-frame camera (see this post, this post, and this post). Back in 2018 Olympus was invited to join the L-mount Alliance and they refused. A recent Sigma presentation indicated that a new member may join the L-mount Alliance in the near future.  Of course, some clickbait websites immediately made up "rumors" that OM Digital will join the L-mount Alliance, which of course is far from the truth.
Tomorrow, April 3rd, is a Four Thirds Day and OM Digital had a special live stream with Panasonic on YouTube where they confirmed again they will not be making a full-frame camera:
Here is the recap from Digicame-info:
Q: Why isn't there a genuine F1.0 bright lens?
OMDS: I've tried designing an F1.0 lens, but it's hard to do with AF.

Q: A new product of m4 / 3 is not coming out, but are you developing it?
OMDS: We are developing a new product firmly. If you can expect it.
Panasonic: I'm thinking about m4 / 3 cameras and lenses.

Q: Why did you stop the GM series?
Panasonic: The G100 was aiming for an advanced version of the GM1. The successor to the GM1 meets the latest performance, but it is a high hurdle to make it into that shape.

Q: Why is the PEN-F gone?
OMDS: People who like the PEN-F love it very much, but overall it's gone as bad as we wanted. Because it is. I would like to release a camera with a high degree of hobby.

Q: Will OMDS not do full frame?
OMDS: We are on the path of Micro Four Thirds. I don't do full frame.

Q: Isn't the high-sensitivity image quality a little better?
OMDS: There are so many requests for high-sensitivity improvement, and of course I'm doing research.

Q: Isn't Panasonic releasing a telephoto lens with a conversion of 800 mm or more?
Panasonic: Lenses with a conversion of 800 mm or more are being discussed internally. Panasonic engineers are also surprised at the OMDS 150-400mm F4.5. I'm listening to my opinion because it's unavoidable to put out the same thing as OMDS.
---