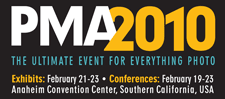 PMA 2010 is one of the major photography related shows in the US. This year the event will take place in Anaheim, California from February 21-23.
Many new photography products will be announced prior and during PMA. Here is a brief recap on what to expect based on previously reported rumors (click on each link for the corresponding article):
Panasonic: two point and shoot models and a Lumix G replacement.
Olympus: multiple point and shoot cameras, nothing else.
Pentax: three new compact cameras with some interesting design.
Sony: series of point and shoot cameras and α700 replacement.
Ricoh: new CX2 camera and a new 28-300 GXR lens.
Samsung: a new k-mount for the Samsung NX-10 is expected, don't have any other information at that point.
Tamron: maybe two new lenses ("maybe" because the announcement could be after PMA).
Hasselblad: a new service for photographers should be announced.
Fuji: maybe a new m4/3 EVIL model, otherwise some new digital and maybe film cameras.
Leica: nothing for PMA, but expect a new 35mm Summilux M lens in March and some new compact cameras (fyi: Leica is not attending PMA 2010).
Canon: 1Ds4 and 60D and maybe three new lenses. Canon should have an announcement on February 9th.
Nikon: well, I have a whole blog for that – too much to mentioned it all here, but Coolpix S8000, Coolpix P100, Coolpix S3000 and Coolpix S8000 are expected.