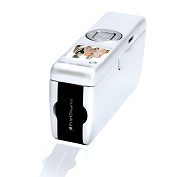 The PrintBrush 4X6 is a camera that can print in color on virtually any surface. The printing process is done by sweeping the device over a flat surface:
The PrintBrush is developed by Alex Breton who spent 11 years and $10 million for the development of the device. Expected release date is early 2012.
I am really doubtful if this thing is real – remember the WVIL camera or the invisible camera? What do you guys think?