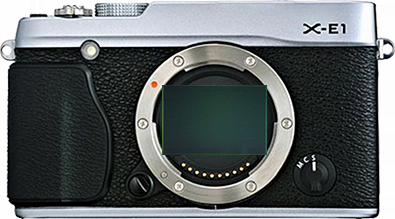 After yesterday's post about a recent statement from a Fuji representative that some XF lenses are compatible with a full frame sensor, the same Hiroshi Kawahara from Fujifilm told a completely different story to dpreview:
It has also moved to quell suggestions that its XF lenses are ready for a full-frame X-mount camera. 'It would not work – XF lenses could not be used with a full-frame sensor,' said Hiroshi Kawahara, operations manager of Fujifilm's product planning division.
Maybe something got lost in translation?
A reader took the time and tried to fit a full frame sensor in a Fuji X-E1 camera body based on existing press images and real camera dimensions – as you can see from the picture above, the Fuji XF mount cannot fit a full frame sensor inside (thanks James).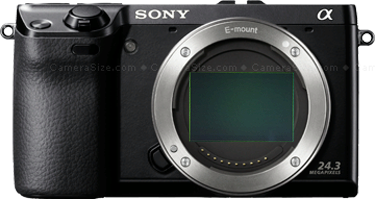 With all this full frame sensor talk, Sony did not miss the opportunity to remind us that their E-mount can support a 35mm sensor in this interview with IR:
Q: Well, obviously very different form factors. I guess the question is does a rangefinder-style full-frame interchangeable lens mirrorless makes sense?

A: Well, I think everyone understands that if we can make the VG900, we could make a still camera variant of that. But what's really on everyone's mind, I would imagine, is an E-mount interchangeable lens camera together with E-mount full frame interchangeable lenses, and that's a different discussion. But can the camera be made and can it use full frame A-mount lenses? Yes, the product in the context of the VG900 was already announced. We have them on display here. But I think what those who are suggesting that a full-frame E-mount camera be developed is a full frame E-mount camera together with E-mount lenses that would operate with it and offer full frame coverage. And all one has to do is to look at the RX1 disassembled model and see the optical challenge that would represent.
Panasonic also joined the party and said in a recent interview with EOSHD that a full frame mirrorless camera is possible with their technology:
Q: Megapixels was the main target of the consumer, then it was ISO noise, now sensor size is coming in and maybe dynamic range. Are there any plans for a full frame mirrorless camera, 35mm?

A: [Smiles] Already we release many many Micro Four Thirds lenses. I think it is possible with our technology, but we have to have MANY discussions on how to sell a mirrorless full frame camera.
All of this full frame mirrorless camera talk intensified after Sony announced the first compact full frame camera at the 2012 Photokina show in Germany.