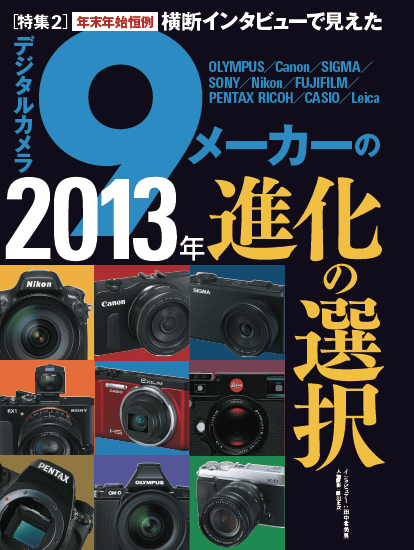 Every year the Japanese magazine Impress published their predictions on what product they expect the major camera manufacturers to introduce in the upcoming year (you can see their 2012 predictions here). Here is a recap of their 2013 prognosis (PDF file):
Olympus: E-5 successor (read more here)
Canon: smaller and better Rebel/Kiss model, new high-resolution compatible lenses, expansion of mirrorless EF-M lenses
Sigma: new full frame Foveon sensor, development of monochrome sensor, mirrorless system camera (Sigma has publicly denied to have any plans for a mirrorless camera)
Sony: full frame NEX camera (expected after the release of the RX1), miniaturization of the E-mount lenses, fast hybrid AF
Nikon: D800 sized body with the sensor from the D4, lineup of DX lenses, performance improvement in the D7000 replacement
Fujifilm: new X mirrorless camera, improved CMOS full-size X-Trans sensor (I doubt this will happen, see this post)
Pentax: new full frame camera, moire removal function in the camera, new Ricoh branded camera
Please note that those are just educated guesses from the editors of the magazine, not confirmed products.
If anyone has a better translation, please email me or post in the comments section (above translation via digicame-info).