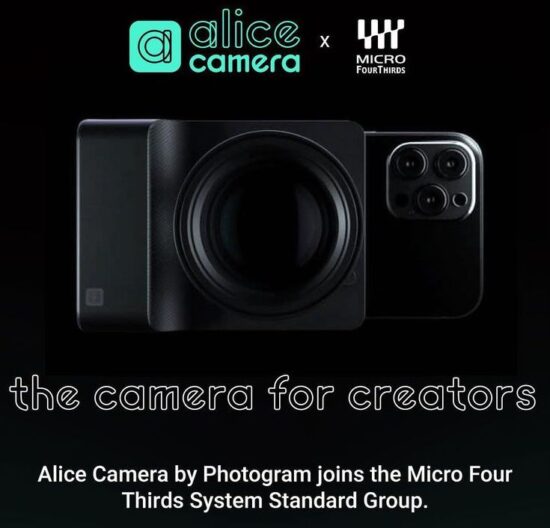 The new British company Alice Camera (previously covered here) has joined the Micro Four Thirds system standard group. Alice Camera is trying to succeed where many others have failed (DxO, Olympus, Yongnuo, Canon, Sony) – developing a camera that attaches to your smartphone:
Here is the full press release:
Alice Camera by Photogram Join the Micro Four Thirds System Standard Group.

Olympus Corporation and Panasonic Corporation jointly announced the Micro Four Thirds System standard in 2008 and have since been working together to promote the standard. We are pleased to announce that the Alice Camera by Photogram has recently declared their support for the Micro Four Thirds System standard and will be introducing products compliant with the standard.

The following company is joining the Micro Four Thirds System standard group: Photogram AI, a computational photography startup building the Alice Camera, an AI-accelerated computational camera for content creators.

As the company responsible for initiating both the Four Thirds System and the Micro Four Thirds System standards, Olympus will continue to develop and enhance the product line-up to meet the diverse needs of our customers.

About Photogram

Photogram AI is a computational photography company building the Alice Camera in Britain from the ground up for the millions of content creators who create and share digital content frequently on social media platforms. By combining professional quality optics with AI-accelerated hardware and computational photography algorithms driven by deep learning Photogram builds cameras optimised for modern photography, seamless image sharing and live streaming.
Related videos:
For more info, visit https://alice.camera.