In a recent interview, Sony said that they can change the world of DSLRs and that they are still committed to full frame DSLR cameras:
"When we announce a full-frame camera we want it to be a big step forward – another technological development might be needed so I say to people: Please stay tuned."
In another interview at CES, Sony's representative also set high expectations for the  A700 successor:
"We've been acutely aware of the concern for the arrival of the A700 successor – actually, quite acutely aware, and we're sorry that it's taken as long as it has — but we believe that when this successor arrives, everyone will realize that it was very valuable to first develop the technologies and the capabilities that will go into the model, and to save it for those."
The Sony A700 replacement is expected to have translucent mirror, magnesium alloy body, new EVF, 24MP sensor and very high ISO capabilities. The camera will be released later this year, probably at CliQ. A prototype was already shown at CES:
Last week Sony announced a new 5-inch CLM-V55 monitor for DSLRs:
The latest rumor is that Zeiss will be developing new servo lenses with Alpha mount for the upcoming 3 sensor mirrorless camera. Sony is expected to release also two high-end point and shoot cameras and a new 500mm f/4 lens with new control buttons (15x image magnification is one of the new functions that will be added to this lens). Here is a prototype of the 50mm f/4 lens:
BCN ranking (from Japan) lists the Sony NEX-5 at the #2 spot for December 2010. Our own poll places the Sony NEX at the #4 spot (only 14 votes behind the #3 Pentax K-5). Popular Photography magazine made the Sony A55 the camera of the year (2010):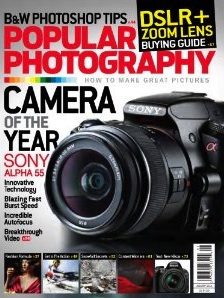 Sony plans also to double their sensor production in 2011 and recently patented translucent mirror for compact cameras.
All this makes me thinks that Sony is the busiest and most innovative camera manufacturer out there. Of course they have the cash and long traditions in the video camera market. I am still not convinced that on the high end products their IQ matches the offerings from Nikon and Canon, but with Zeiss on their side and full frame cameras in the pipeline we will have some interesting time in front of us.
Here is a quick poll – who do you think is the most innovative camera manufacturer today: